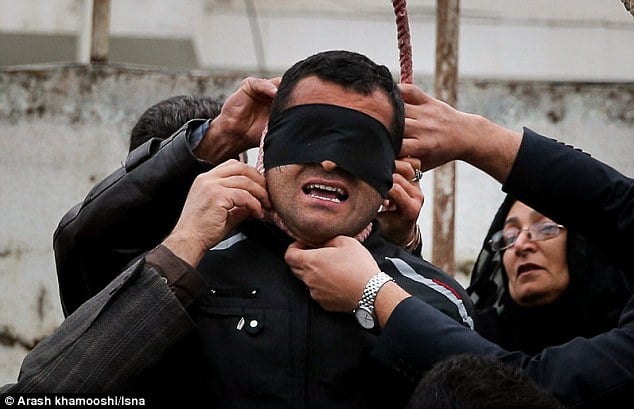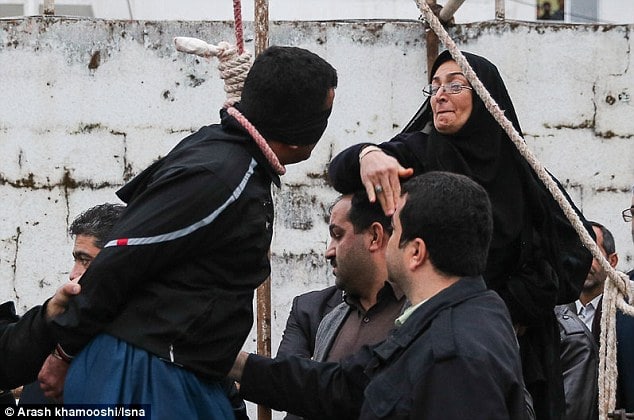 An Iranian man has been spared from imminent hanging as the victim's mother.
Seconds away from having the chair underneath him kicked away by his victim's family whilst he stood blindfolded with a noose around his head, the victim's mother unexpectedly called for the hangman to have her son's killer's noose removed.
Instead of kicking the chair, the mother slapped the Iranian killer, known as Balal in the face.
Asked why he and his wife had decided against the man's death, the victim's father, Abdolghani Hosseinzadeh, told he and his wife had a change of heart after her dead son appeared to her in a dream.
Via the UK's guardian: 'Three days ago, my wife saw my elder son in a dream telling her that they are in a good place and for her not to retaliate.'
'This calmed my wife and we decided to think more until the day of the execution.'
Balal had originally been sentenced to death for stabbing 18-year-old Abdollah Hosseinzadeh Jnr, during a street fight in the Iranian town of Royan seven years ago.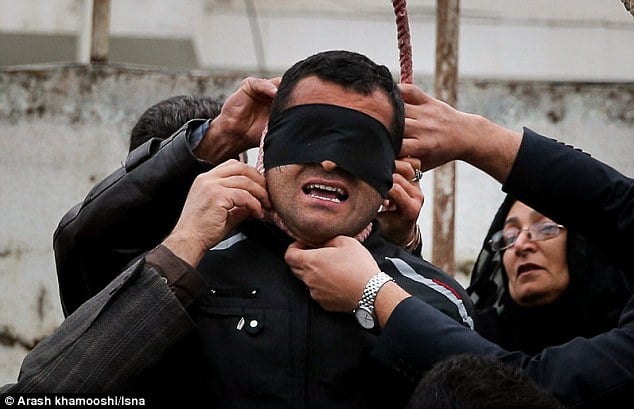 Nevertheless Hosseinzadeh Snr believes Balal did not mean to kill his son.
Adding: 'Abdollah was offended and kicked him, but at this time the murderer took a kitch knife out of his socks. 
'Balal didn't know how to handle a knife. He was naive.'
In a literal application of the sharia law of retribution, known as qisas, the victim's family are allowed to take part in the execution.
They also have a say in sparing the death sentence, but not the jail term. It is not clear if Balal will now be freed.
Nevertheless the reprieve once again sheds light on Iran's policy of hanging to death convicts.
Via a report by the UK's dailymail, Iran is one of the main drivers of a 15 per cent rise in executions around the globe last year according to Amnesty International.
Figures released by the organization suggest at least 369 people were put to death, while, in February, it said nearly 100 had already been carried out this year.
Those commenting on social media in Iran are almost universally supportive of the parental pardon, calling it courageous, honorable and moving. It remains to be seen if there will a reversal in the rate of executions.