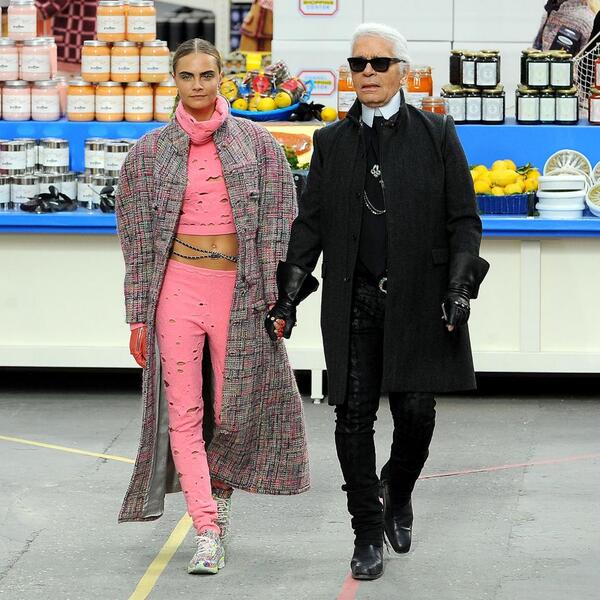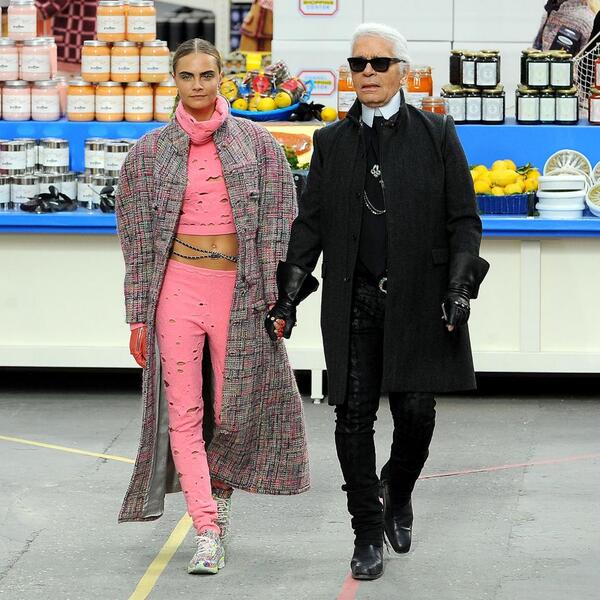 Karl Lagerfeld has proven once again why he is the master and élan of the fashion world as his Supermarket sweep Chanel collection was a sold out success.
Using a bevy of models, superstars as Cara Delevingne (so I have been told), aspiring reality model, Kendall Jenner and old school stalwart Stella Tennant (at 43), the Kaiser put on an impromptu show with a 'supermarket' feel within the walls of the Grand Palais in Paris.
Even before the show began, attendees were treated to Chanel treats.
Tells the UK's guardian: CoCo Chanel Coco Pops, and Confiture de Gabrielle – a nod and a wink to the house's founder. Fashion editors posed with shopping trolleys amid this Warholian fashion extravaganza, before models posed as shoppers, strolling around the superstore in a choreographed performance.
And with Rihanna's 'Shine Bright like a diamond,' the uber models stomped about selecting various goodies, from a Chanel branded brandy bottle to a Chanel feather duster (don't ask me what I have in mind for that bixch).
Clothes came in the form of classic cocoon tweeds, which Karl does so well, bubblegum pink cut-out matchy two-pieces, slouchy leggings and floral print trainers, often knee length.
With models straddling the makeshift aisles with accompanying shopping baskets, Karl Lagerfeld made it crystal clear where his latest Chanel Fall 2014 line belongs- everywhere where men and women dare to gallivant and ought to look glassy brilliant, yes even shopping malls, and why not? Isn't that the ever present ready to go appeal of a timeless Chanel collection?