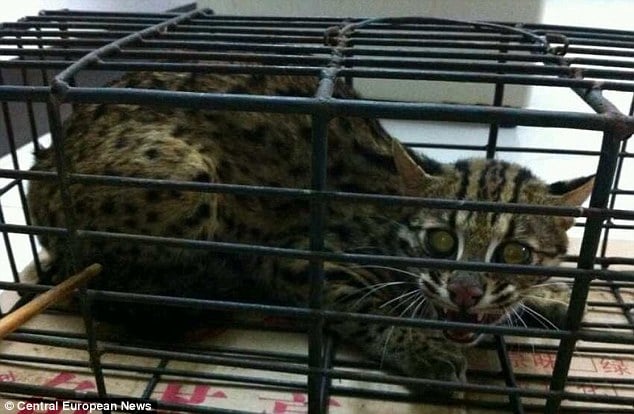 Li Jinbang a 21 year old Chinese woman who posted images of her skinning a cat and making a cat soup has drawn the ire of social media.
The images were first posted 'jokingly' (as the woman now tells) on Weibo, China's equivalent of Facebook.
Wrote Li Jinbang: 'Hey look, I managed to catch a tiger and ate it.' 
The woman had further gone on to tell how she had boiled the cat before stripping its fur and cutting it to pieces.
Yet rather than receive accolades (if that is what the woman imagined) she soon found herself the center of scorn and condemnation as hate mail filled social media.
Before Li Jingbang could take down the images, the images had already gone viral.
The posted images included the defenceless cat cowering in a cage before it was hung up, prior to being butchered.
It also showed the young woman wearing a fur coat and glasses while she prepared the soup.
The woman would later defend herself by saying the cat, which in the images looked perfectly healthy prior to being boiled, had been badly injured in a car accident and she was simply doing a friend a favor by putting it out of its misery.
Wrote Li Jinbang: 'It was a perfectly lawful killing and I killed the cat and ate it without doing anything illegal.'
Some users pointed out it was no surprise she was from southeast China's Guangdong province, which is famous for its exotic eating habits, which often include unusual animal dishes.
The UK's dailymail notes that China officially frowns on the process of eating cats, but estimated around 4million are eaten in the country each year.
In 2012, authorities drafted legislation to make the eating of cats and dogs illegal with jail sentences of up to 15 days for offenders.
But privately officials admit that the number of cats eaten is rising each year.
And then there were these comments on the web that made me wonder:
Let's get one thing straight, the worst scavengers on Earth are humans. The cruelest and the most destructive are humans. Never let your bloated egos patronize the true creatures of this planet – the most neurotic and arrogant of all history both geological and biological. are we, the strutting super-apes.
Excellent use of those filthy verminous creatures, we should do the same in the UK because domestic cats are not native to the UK and decimate our native wild birds, the overwhelming vast majority of cat owners in the UK are utterly irresponsible they let their supposedly cherish pets roam free blighting their neighbours gardens, decimating local wild life and getting ran over by cars or eaten by foxes. Cats in the UK are no better than rats, grey squirrels, Magpies and urban foxes an absolute blight. 
As for those sad cretins who are offended, you only have the right to be offended if you are a vegetarian, if you eat lamb, pork, beef, venison, rabbit, chicken etc you are no different to the Chinese lady.