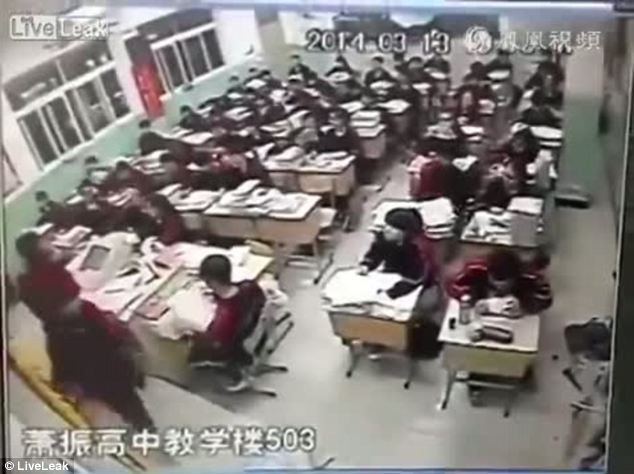 A new shocking video has caught the moment a Chinese schoolboy leapt to his death.
The seemingly innocuous video clip pans on a crowded classroom as pupils settle down for class. The students all seem to be prepping for that hour's lesson, prepping books, focusing on the teacher ahead of them except for one pupil who can be seen sitting motionless bottom right.
Just as the pupils appear ready to start their lesson, that boy suddenly stands up at his desk and runs to the nearest side of the room.
Although that part of the room is out of shot, it is understood that he leapt from a window – a conclusion that seems backed up by the distraught response of fellow pupils.
Some run to the window to peer out, others run from the room, while one simply paces while clutching her head in her hands.
One student comes to the front of the class where he points at the teacher and shouts something at her.
A description of the video which made its way on live leak told: 'High school student Xiao Zhen leaps to his death from a a window in the middle of class. It is believed this happened due to pressure of preparing for college entrance exams.'
While the video's authenticity cannot be confirmed, it fits with a disturbing trend among Chinese youngsters for whom suicide has become the number one cause of death.
The unusually high suicide rate among Chinese youth has been blamed on intense pressure to succeed in school, where the education system places great emphasis on grades and status at the expense of healthy social lives.