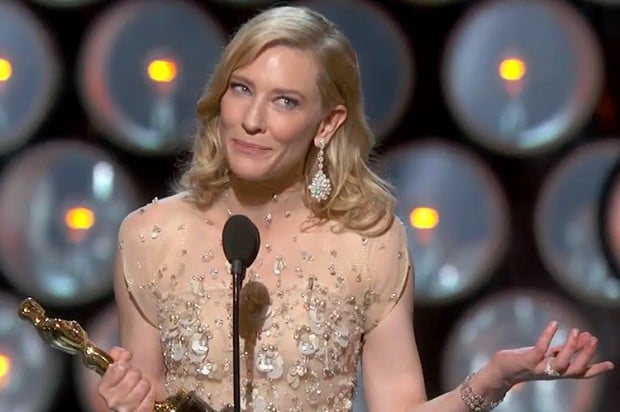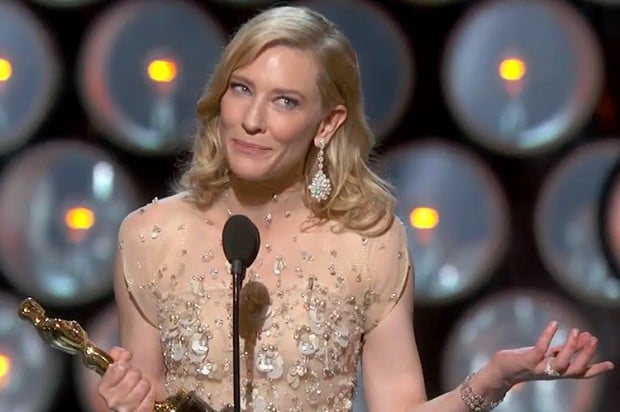 It wasn't Cate Blanchett's fault. It was all the media's fault. Nevertheless she was left with the cynical task of whether she would take to mentioning Woody Allen, the man who cast and directed her in Blue Jasmine for which she won an Oscar for best female actress.
By now it had been a running play ever since the director's adopted daughter, Dylan Farrow came out with an open letter accusing Woody Allen of sexually molesting her.
Woody Allen rebuttal letter: Mia Farrow is a liar and a nasty person
Woody Allen rebuffs Dylan Farrow claims: 'Untrue and Disgraceful'
Dylan Farrow open letter: Woody Allen sexually molested me and you abetted it.
At the time she had expressed aghast that her father could be creatively celebrated (as he was at the Academy's) and that she had to accept the continued humiliation and existential angst of what he purportedly did to her. She had gone on at the time to ask various Hollywood elite, such as Cate Blanchett and Alec Baldwin who worked with the actor whether they ought to be taking a stand against the director. Of course that was nonsense and trying to sucker punch the director from the gut. What may have happened between her and him had nothing to do with who Woody Allen casts and directs during business hours.
And thus last night, too aware that the world would be watching her every word (along with Woody Allen mind you) the actress gracefully thanked the director:
'Thank you so much, Woody for casting me,'
And from there was tepid applause. Tepid because we were all relieved that the actress had enough nouse to avoid stepping on a minefield, tepid enough that she still had the class to thank a professional for allowing her to excel (irrespective of what that professional may have done in his private life some 23 years ago) and tepid enough that we the viewers and the media could finally put this besides us. This after all was a private issue between Dylan Farrow and Woody Allen and as much as she sought to address the pain she felt and expose the tumult sexual molest victims suffer, the way she went about it reeked of venom, opportunism and cynicism and was meant in the hope to derail her father.
Whether certain feminist magazine editors/writers like it or not, Woody Allen is here to stay, he is a creative talent to be reckoned with and a master at conjuring authentic women's roles. Whatever he may or may have not done (and please oh please let's not forget he was not found guilty of such acts by the legal system) is between him, that person and the judicial system to decide, not a bunch of cantankerous media writers using click bait. Get over yourselves at last and let the entertainment industry make the movies we all wish to watch without parsimonious back seat judgement of what counts for acceptably moral behavior ….