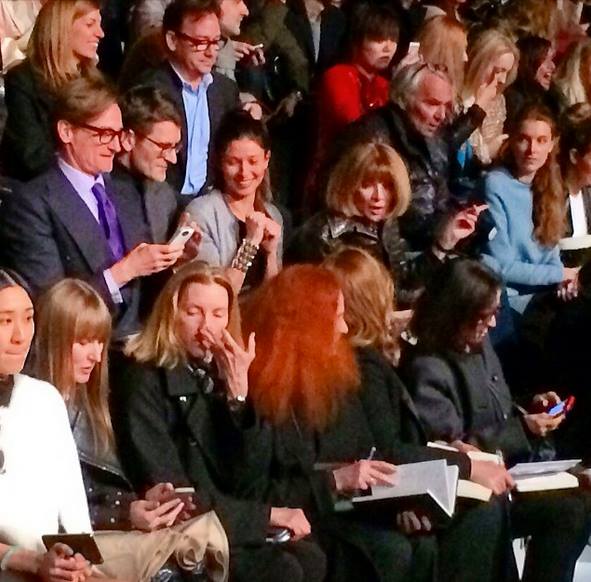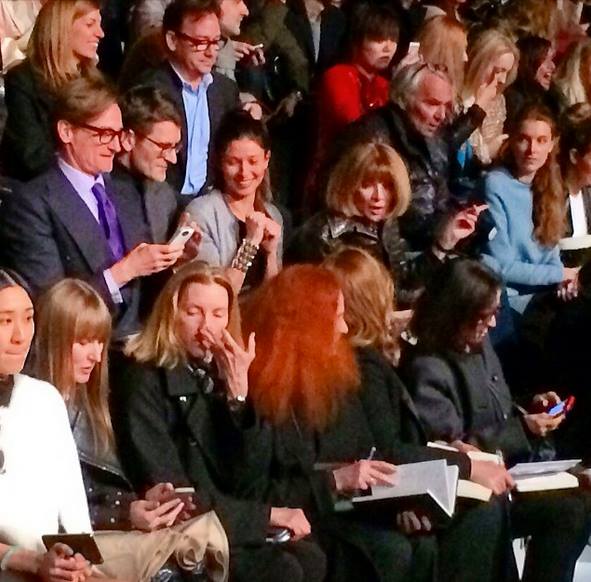 Anna Wintour Valentino second row crises has me in existential angst….
Kids like you I can only ever dream of sitting front row like a festooned peacock at every major fashion show bobbing up and down the NYC, London, Milan, Paris retinue. Then again I'm not Anna Wintour. I'm not afforded such privileges. I'm just a tabloid junkie. Anna Wintour on the other hand is fashion royalty junkie.
And the ego paradigm shift begins like this via styleite: And yet, earlier today, Wintour was perched second row at the Valentino show, causing a major paradigm shift within the fashion industry. Perhaps that's a slight exaggeration, but the first thought that came to our minds was that it was a seating assignment gaffe, at which point we asked ourselves, "Who's getting the axe?" Fortunately, for the sanity of all parties involved, it seemed to be Wintour herself who forewent her front seat. According to Fashionista, seats for American publications at the Valentino show were cut significantly this season, which means Wintour likely passed her seat to Sarah Mower, who's reviewing the show for Vogue.com. 
Kids can we stop to take a large dollop of fresh air. What the heck does it mean to be sitting front row anyway? Why have we imbued mere seating arrangements with such valor and decor? It is just a bloody seat. The honor should always go to the designer and the models. They are the center stage and ought to remain as such. But then again maybe I'm being too idealistic and naive to imagine you fashion types understand humility.
Well actually Anna Wintour did this afternoon, maybe she's onto something kids….?
Giorgio Armani pissed off Anna Wintour missed his show.
Kanye West pitches baby photos to Vogue's Anna Wintour: 'Piss off…'
Kris Jenner is banned from ever attending the Met Ball says Anna Wintour.
Don't expect Anna Wintour and Carine Roitfeld to be sitting together front row during Fashion week.
Tell me this isn't true? Kim Kardashian was banned from the Met by Anna Wintour.