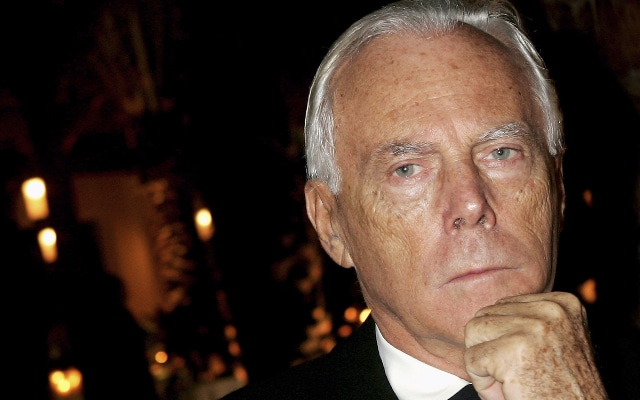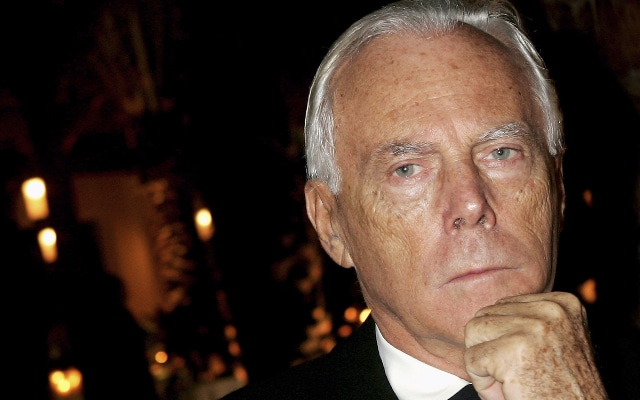 Italian designer Giorgio Armani has expressed outrage after Vogue dominatrix, Anna Wintour skipped the designer's fall showing in Milan, opting instead to continue to Paris for the start of fashion week there.
In a press conference after his show, which was presented on the last day during Milan Fashion week's calendar, the 79 year old designer and legend told he thought that Anna Wintour was 'unprofessional' for having skipped his show.
Told the designer: 'She took an airplane, dumped [me] and went to Paris…' 
 'It's not professional.'
Added the designer: 'She is influential and powerful. But, perhaps, I'm influential as well.'
 Well maybe not anymore?
Not coincidentally, the designer also mentioned his label is a major advertiser in Anna Wintour's American Vogue of which she is Editor in Chief.
Armani told how Anna Wintour  had assured him that other high-ranking representatives from American Vogue would attend the show in her place.
That though didn't sit too well with the designer.
'She said she was sending her people. But if you go to see your dentist and he puts you in the hands of his assistant, what's your reaction?
A spokesperson for Vogue told WWD that 'Anna has the greatest respect for Giorgio Armani and everything he has done for Italy and fashion worldwide.'
'Unfortunately, with the fashion calendar now running for more than a month, there are some shows that Anna is not able to attend.'
Armani would acknowledge Wintour's absence in some part had to do with the fact that he is the only influential designer to show on the final day of Milan Fashion Week – a prestigious schedule slot that he has held for the past two decades.
During his press meeting, the designer told that he has been lobbying Camera della Moda, the organizers of  Milan Fashion Week calendar to alter the schedule so as to maintain high-profile designers until the end.
Told the designer: 'When we decided to show the last day, other big brands were involved. But currently this is an empty day,'
Not helping matters is the scant 12 hour window that now exists between the ending of Milan Fashjion week and the start of Paris Fashion week,
Mario Boselli, the Camera della Moda president would tell WWD that his organization spoke with the designer after his press conference to resolve their issues.
'We met Mr Armani earlier and he is totally fine now. In a certain way, it's right that the important journalists stay until the end of the week, and next season, we will try to guarantee the presence of other big brands the last day,'
What's of note is the designer's insistence that the high profile editor in chief personally should have made her way to his show which is to underscore the delicate relationships designers and publishers have these days, each serving to endorse each other, keep each other afloat and valid in the eyes of consumers.
Who can dare say that the designer perhaps ought to have at least expected the editrix to make her presence known, as each have over the years have served to keep each other predominant in fashion circles. Then again perhaps we might wonder if this is a little hint that the era of Giorgio Armani has come and gone and that it is indeed time for new blood, something as an editor that Ms Wintour is also obliged to look out for, never mind the dollars Giorgio keeps pouring at the publisher to keep himself relevant….
above image found here