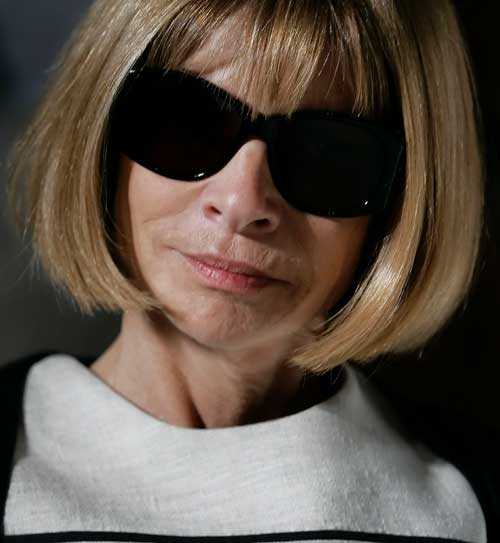 Looks like the gloves are coming off between Anna Wintour, Vogue's Editrix and Carine Roitfeld, Vogue Paris' former editor in chief as Roitfeld is set to launch her new magazine, CR Fashion book on September 13.
nypost: The fashion world's bracing for a battle, reveals Page Six Magazine — with one insider even claiming the top editrixes can't be seated near, or across from, one another during Fashion Week. "Anna's not worried," says stylist Phillip Bloch. "It's more like, 'Ugh, that pest is here. Guess I'm not getting rid of her anytime soon.' "
That pest? Hmm, how savory for a pair that not so long ago were working for the same publishing house and were bosom buddies until that is Carine trod on some fingers and decided to do things her way.
Offers Jerry Oppenheimer, who's penned a book on Wintour:
"Anna is an institution, and Carine, who seems to be going through some sort of a career midlife crisis, is never going to usurp Anna's immense political power and editorial clout,'
Poor Carine, one can only imagine how she must be managing with all them senior up fashion types sticking their tongue at her as she makes a go of it the NY fashion publishing circle.
Then there's this: For Roitfeld, the web offers a chance to experiment with a new publishing metabolism. She'll be posting everything that moves her — from images from the latest fashion shows to emerging designers to young makeup artists — into the site's Envelope section daily.
"I love that the web gives me the opportunity to share my thoughts with my readers in real time, something that I have never been able to do before," she said.
Nevertheless not everyone is excited about Carine's new project, least of all former fan of Carine's, Conde Nast who have mandated that none of their staffers jump ship or offer their services to the new effort.
Not perturbed though is Dennis Freedman who has aligned himself with team Carine, who also happens to be Barney's creative director:
"There is so much room for a breath of fresh air, and a breath of fresh air that is not afraid to make some mistakes.'
Fresh air, mistakes, and a few back stabbing jabs along the way, now that's fashion with a twist…