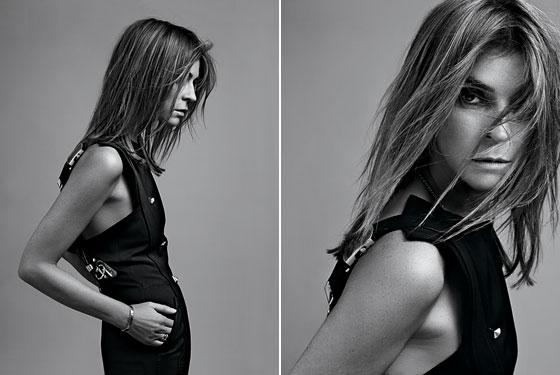 Does anyone still love Carine Roitfeld?
It looks like the top brass at Conde Nast are somewhat threatened by the go alone efforts of Carine Roitfeld, its former French Vogue editor in chief (rumors have it there may have been some inside dissent with the diva prior to her announced departure) as she gets set to launch her new magazine CR fashion book out of NYC (predicted launch date is September).
According to page 6, Conde Nast's international chairman Jonathan Newhouse has been ordering photographers and editors not to work with Ms Roitfeld who is set to launch her bi annual title with Fashion Media Group LLC (V, V Man and Visionaire). Those sequestered include Mario Testino, Craig McDean, David Sims and the Mert Alas and Marcus Piggot team. All of whom have been 'reminded' (politely we imagine as well) of their exclusivity with Conde Nast. Of course one wonders if this will hardly put off Ms Roitfeld who one imagines must be surrounded by an avalanche of talent desperate to catch her eye. If she once helped made the above names household names surely the diva can do it again with the many burgeoning talent out there too (Carine you know where to find me dear should you need to get the gossip department up in arms).
But there's more:
Even those who aren't bound contractually to Condé Nast have been discouraged from working with Roitfeld, fearing backlash from the publisher, our sources said.
"Everyone is buzzing about the Condé roadblocks against Carine," one fashion insider said. "People love Carine but are more frightened of the Condé Nast machine."
Love Carine but more frightened by the Conde Nast machine. Sounds like bollocks to this author, I'd say the other way round. Right Carine, otherwise there wouldn't be the brow beating surrounding the former French editor who like it or not has impeccable vision and acumen.
Roitfeld for her part told Women's Wear Daily in April: "Vogue is a very beautiful magazine, an institution, and I learned so much working there . . . You can't put yourself into competition with a magazine like Vogue; you have to create something new, something different.
We can hardly wait to see what you have in store Ms Roitfeld and that I am sure includes Jonathan Newhouse, not there was ever any doubt…
above image via nymag