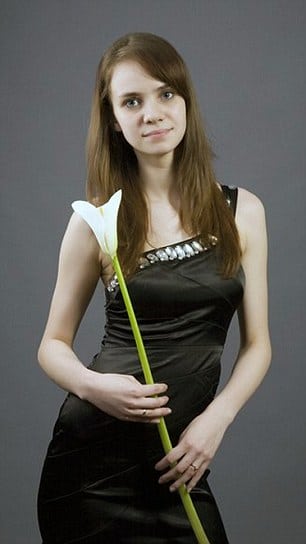 Olga Tilinina, a 20 year old Moscow, Russian mother has met with an untimely death after an accident with an elevator bank at her residence saw her beheaded.
At the time of the freak accident, Olga Tilinina, a former beauty contestant was with her eldest child, Maxim after taking him for a walk
Returning back to her Moscow apartment, the woman entered the ground floor with her son and proceeded to enter the lift to return upstairs when the elevator doors suddenly slammed shut.
The young mother's legs would subsequently become trapped between the doors.
Tells the UK's dailymail in excruciating detail perhaps best skipped by readers with weak stomachs:
The Russian mother pushed her son to safety but the lift then went up with her jammed half in-half out of the rising elevator.
Her head cracked against the ceiling of the lift doorway.
Went on to tell a local television report: 'Olga was literally torn to pieces and 'her head was found on the ground floor, while the rest of her body was squeezed between the floors' before the elevator finally came to a halt on the second floor,'
Told a neighbor who witnessed the ensuing carnage: 'She was terribly badly damaged. A mess in her stomach, all mangled and smashed, her face mashed.'
An emergency services worker said: 'Her poor son witnessed this scene from hell.'
Minutes earlier Olga's husband Dmitry, 24, had used the same lift to take the couple's other child Egor, one, in from their family walk.
When a traumatized Maxim was reunited with his shell-shocked father, all he could say was 'Mama, leg.'
Told the husband later in a tribute: 'I have lost my most beloved and darling person.'
'I love you and remember you, you will remain in my heart. Our children love you.'
The grief-stricken husband said: 'I just can't understand how this could happen.
'Normally you push the doors and they open but instead it snapped shut, trapping her legs, and kept moving, dragging her up.
'And our elder son saw all this. He is just two and a half. He came into our apartment and said: 'Mama, leg.'
The husband has since told he plans to sue the company managing the apartment block for negligence.
Experts are examining the damaged Soviet-era elevator. Mechanics had attended the elevator hours before the tragedy, it  has been disclosed.
One neighbor would later tell interviewing tv crews the following: 'There have been complaints about this lift for years.'