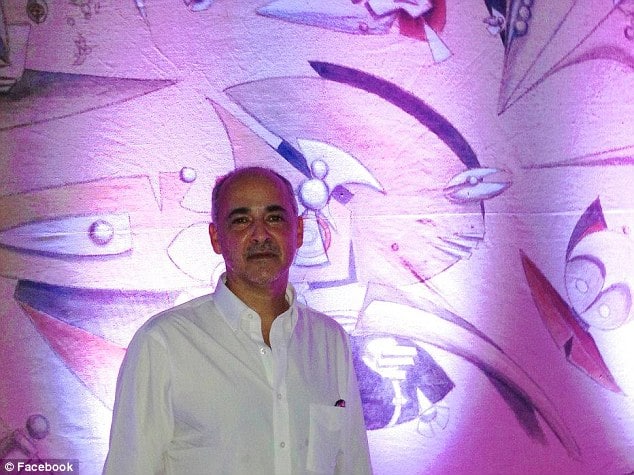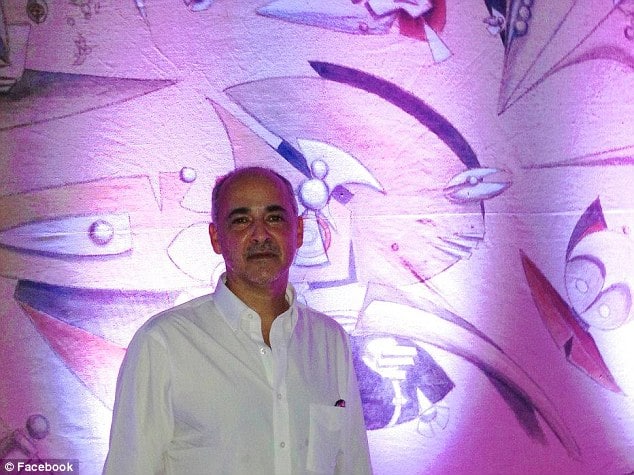 Maximo Caminero, 51, a Florida painter faces the prospect of up to one to five years in jail after smashing a $1 million vase by famous Chinese dissident artist Ai Weiwei.
The smashing came as a result of the artist protesting Pérez Art Museum Miami's purported policy of only showing foreign work and its failure to showcase local talent.
According to the arrest affidavit, Caminero picked up the ancient vase painted over by Weiwei and a security guard told him to put it down.
Instead, Caminero smashed the vase on the floor and 'spontaneously told [police] that he broke the vase in protest of local artists and that the museum only displayed international artists.'
In defending his actions, the artist who has been working as a painter for 30 years told he was frustrated that local artists like himself weren't been showcased in Miami-area art museums.
'I did it for all the local artists in Miami that have never been shown in museums here,' Caminero told the Miami New Times. 'They have spent so many millions now on international artists. It's the same political situation over and over again. I've been here for 30 years and it's always the same.'
Maximo Caminero plans to hold a press conference Tuesday afternoon to 'answer all the questions.'
Affidavits told that the vase was worth $1 million – but Caminero insisted he had no idea it was that valuable and feels sorry for damaging such an expensive relic.
'If you saw the vases on display and the way they were painted there was no way one would think the artist had painted over an ancient artifact,' Caminero said. 'Instead I thought it was a common clay pot like you would find at Home Depot, frankly.'
"I wanted to draw attention to the fact that there are many foreign artists like myself and others who have been here thirty years and have never received attention or support from MAM or now PAMM and other local museums,'
'We are all taxpayers here and PAMM used $200 million of public money on its building and opened with Weiwei's work to draw attention to itself and as always continues to ignore local artists.'
Perhaps the irony of proxy could best be described by the fact that Ai WeiWei's work has received notoriety because of the artist's rebelious stand against autocratic measures at home, the same way one could perhaps describe Caminero's latest act.
A sculptor, designer and documentary-maker, Weiwei has irked Beijing by using his art and online profile to draw attention to injustices in China and the need for greater transparency and rule of law.
He was detained for 81 days in 2011 during crackdown on dissent. After his release in June 2011, Ai's design firm was slapped with a $2.4million tax bill, which he fought unsuccessfully in the Chinese courts. Which is to say, Caminero could also now be on his way to jail in a fight for his beliefs, the right of local artists to be represented. A struggle that perhaps Ai WeiWei could duly understand… 
Then there was this comment on the web that made me wonder as well:
Caminero's ignorance is astounding. The museums of Miami, including PAMM, have at times been locally focused to a fault. The collection of PAMM is full of work by local artists of many backgrounds and mediums, many of which are currently on display. What declaration does he make when he destroyed the work of another artist whose work is a critique of capitalism and totalitarianism? His action isn't radical: it's the petulant fit of a child. It shows that he has no interest in contemporary art or respect for the art of others. If Caminero's complaint is that he can't get his art on a wall in Miami (a city teeming with opportunities) then he should either look at his own work critically or get a booth at the Swap Shop.