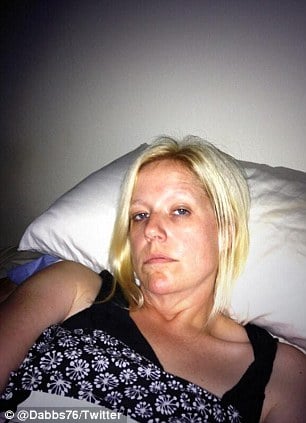 An aspiring down and out actress Nancy Motes, 37 who happens to be the half sister of famed actress, Julia Roberts fatally overdosed this past Sunday, Feb 9th. As she went on to take her life, the woman left a five page suicide letter directly blaming the 'Pretty Woman' star for why she was taking her life.
'It was definitely a suicide. She left a five-page suicide letter. The EMT found it,' told an unnamed enforcement source at the scene.
'There were three pages of rantings that her sister drove her to do this. There was one page to her mom, telling her how much she loved her, and one page apologizing to (her fiancé John Dilbeck),' the source said.
The specific contents of that letter have not been released nor has Julia Roberts publicly spoken about her half sister's suicide.
It is believed an altercation led to the sister being cut off from her family after Nancy Motes took to a public bashing of her elder sister, Julia Roberts, 46 this past summer. During the tell all, Motes accused her elder sister of blocking her access to their sick mother. It is believed Nancy Motes ongoing addiction to drugs had led to a tough love policy.
Since Nancy Motes' death, Julia Roberts canceled scheduled public appearances Monday, including a spot on "Jimmy Kimmel Live."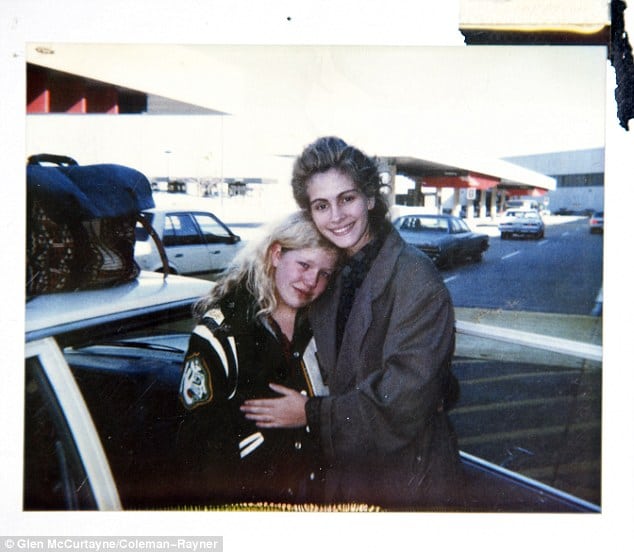 In trying to asses the mindset of Nancy Motes preceding her overdose death, the UK's dailymail took to unearthing the down and out actresses recents tweets.
Told a tweet this past October: 'It's a shame when you get more support from strangers than you do from your family. I can't wait to officially belong to another family!'
'A family that loves & accepts me. Doesn't throw shade my way. Forgives me for my mistakes & loves me for who I am.'
While not being specific about what mistakes she was referring to, it is believed that Nancy Motes by then was addicted to both prescription and non prescription drugs. It may have been this ongoing dependence that unsettled relations between Motes and her family and being given an ultimatum to get clean or get out.
Then in a sign that tensions had only escalated there was the below tweet a mere two weeks prior to Nancy Motes' fatal overdose: 'Just so you all know 'America's Sweetheart' is a B***H'
In further signs of disarray, Nancy Motes on January 19 had also told: 'So my 'sister' said that with all her friends & fans she doesn't need anymore love. Just so you all know 'America's Sweetheart" is a B***H!!'
But she didn't stop there, the disparaged Nancy Motes would go on to tweet two new messages, writing: 'Do you want to be a fan of someone so cruel? She's not even that good of an actress. Happy you totally F***ed with me?
'I must admit I maybe going too far… But I never been so angry in my life. I'm actually a pretty easygoing, peaceful person.'
Three days later on January 22 Nancy tweeted her family had abandoned her.
Tweeted soon there after: 'Feeling blessed, even though I'm sick as a dog! I'm very grateful that I have my loves family, since my own family has abandoned me.'
Yet it was her next tweets which would hint at the degree of ire and resentment she held directly against Julia Roberts. It is thought that Roberts by then had enforced a complete no access to their ill mother.
Tweeting: 'Hey Hag! Glad you f****ed with me yet? You're going to LOVE what's coming! FYI-You're an awful, hate filled old pathetic excuse for a human.
'I must be grateful & not hateful. I must forgive. But Damn that is a REALLY hard thing to do sometimes, right?!?!'
A day before her overdose, Nancy Motes would tweet the following ominous tweet:
'Hope everyone is enjoying their Saturdays & watching East Los High! Season 3 coming soon!'
What was perhaps strange and compelling is the fact that Nancy Motes only had 69 twitter followers. She had only joined twitter in August.
Yet there she was making the most of it, voicing her pain, disgust and feelings of abandonment and least of all her sense of betrayal at the hands of Julia Roberts. It was during this time that Motes took her story to the tabloids. Perhaps not ironically the rift between sister and sister would only exacerbate after going to the press.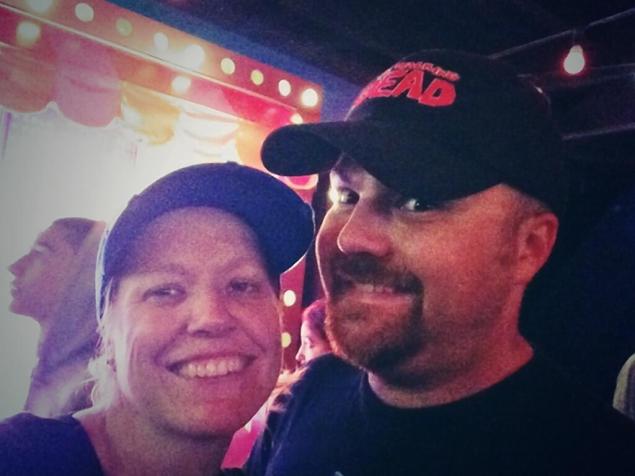 Prior to her death, Nancy Motes was due to marry her fiancé John Dilbeck on May 17.
At the time of her overdose death, it would be Dilbeck who would discover Nancy Motes's body in the bath tub of a friend's home that she had been pet sitting for.
Both prescription and non-prescription drugs were found at the home.
An autopsy has yet to determine what substance Motes exactly overdosed on.
What is known of Nancy Motes is the following:
Both her and her half sister, famed actress Julia Roberts had the same mother, Betty Lou, but different fathers. Nancy's dad was Michael Motes and Julia's is the late Walter Grady Roberts. Both sisters aspired to be actresses but only one would make it.
Whilst Julia Roberts was able to secure block buster roles in the early 90's, Nancy Motes struggled to get any work and would soon find herself running out of money in Los Angeles and forced to return back home in Georgia. This whilst her elder sister was by now an international star.
Yet rather than emboldening Motes, Julia Roberts' success only served to alienate and increasingly frustrate her as she was continuously reminded that Julia was the thin beautiful successful one whilst she was the awkward overweight 'loser.'
In time Nancy Motes feelings of self hate would lead to her ballooning to 300 pounds. It is also during this time the younger Nancy Motes would turn to abusing opiates. An abuse that she was warned to put away.
Motes had told in the past that she was known as Julia's 'fat little sister' and that she had been taunted by Julia Roberts over her weight, leading to Motes to undergo drastic surgery in June 2012 in the hope that her older sister, Julia would 'finally approve' of her. Never mind if Nancy Motes had come to approve of herself.
'It makes me feel incredibly hurt and very sad,' Motes had told in an interview. 'When you're in a family of very, very exceptionally beautiful people it's intimidating.'
Motes, who described herself as an 'awkward' child who was bullied at school, could not compete with the success of her 'very pretty and very popular' sister.
She once told: 'When I was in high school and she was an adult, she would just let me know that I was definitely overweight. She would make it quite clear to me and in a not so nice manner.
'Julia did not want to see me go down that path [of acting] … So I just got a lot of criticism from Julia, which was very discouraging for me.'
After graduating from high school in 1995, Motes auditioned for roles in Hollywood while working as a waitress. But she could not afford to continue so returned to Georgia where she had grown up.
Then three years ago Nancy moved back to Los Angeles, after meeting her fiancé John Dilbeck. But she claimed Roberts started taunting her again about her weight days after she arrived.
With her weight soaring, Motes finally decided to have a gastric bypass fitted.
Motes said she could not afford the $32,000 fee, but rather than ask Roberts, who is worth $140million, for financial help, she took out a loan.
That said one also wonders if Roberts had in the past supported her younger sister only to find out that her younger sister was taking to narcotics, ensuring that in the future her reluctance to effectively perpetrate her addiction.
Subsequent to her operation, Nancy Moates would go on to lose 100 pounds and had been set on marrying in May.
However, RadarOnline reported last year that Julia planned to boycott the nuptials because she didn't like the groom and didn't want to get stuck paying for the wedding.
'Julia doesn't think much of Nancy's husband-to-be,' radar quoted an insider as saying. 'She's convinced he's sponging off Nancy, who doesn't have much money in the first place.'
At the time of her death, it was not known if she had mended her relationship with Julia.
She said last year: 'It's a work in progress, it's not going to be fixed overnight, nor do I think it's going to be fixed by me just getting skinny.'