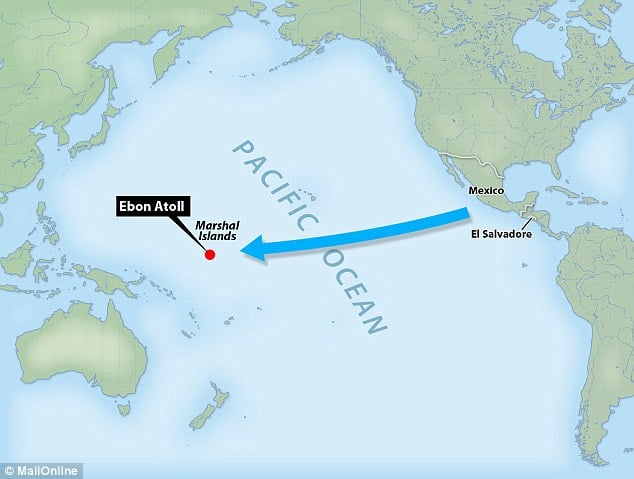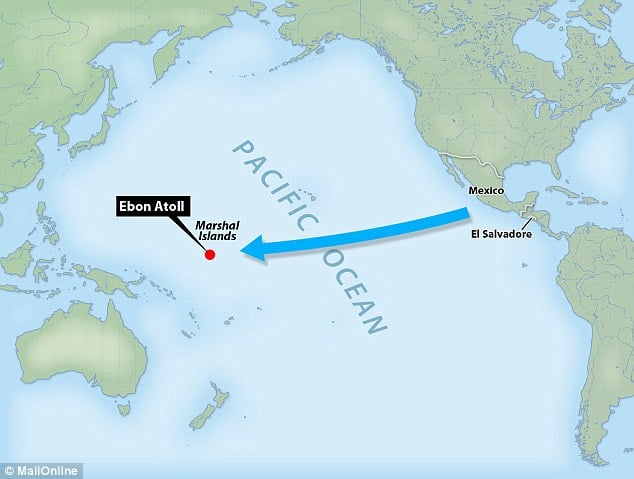 Jose Ivan, a Mexican sailor found washed up on in a boat on the Marshall islands has told he survived 16 months moribund in the Pacific Ocean by eating hand caught birds and drinking turtles blood for fluid.
When locals discovered the diminutive man on the Pacific atoll they came across an emaciated individual with long had and a beard. He would later tell his rescuers he had been drifting in a propeller-less boat for 16 months after setting out from Mexico, more than 8,000 miles (12,500km) away.
The man, dressed only in a ragged pair of underpants, told his rescuers that he had been adrift in the 7.3-metre (24ft) fibreglass boat, whose engines were missing their propellers, since he left Mexico for El Salvador in September 2012, in the hopes of catching shark. A companion had died at sea several months ago, he said.
'His condition isn't good, but he's getting better,' said Ola Fjeldstad, a Norwegian anthropology student doing research on the isolated Ebon atoll, part of the Marshall Islands archipelago.
Added Fjeldstad: 'He's staying at the local council house and a family is feeding him,'
'We've been giving him a lot of water, and he's gaining strength.'
Told Jose Ivan via an interpreter: 'I want to get back to Mexico,'
'I feel bad,' the castaway told his translator. 'I am so far away. I don't know where I am or what happened.'
Fraser Christian, who teaches maritime survival courses at his Coastal Survival school in Dorset, told via the UK's guardian the man's story, if true, would be remarkable but far from unique. It was entirely possible to catch turtles or small fish by hand, he said, since 'they are inquisitive, and they will approach a small boat to shelter underneath it.'
Christian advises clients who find themselves forced to eat turtles to start with their eyes – 'lots of fluid' – then move on to the blood.
The major problems the man would have faced were exposure and dehydration. 'The basic rule is, no water, no food. You need water to digest protein. If you have no fresh water and it doesn't rain for a few days, so you can't collect rainwater, you have basically had it.'
Individual physiology also played a part, he said, with some people better suited to survival than others, but 'the mental thing is key, and that's often down to people's situation in life and how used they are to dealing mentally with hardship.'
Survival strategists have told the mental ordeal that Jose Ivan would have endured would have included a 'debilitating cocktail of despair and delusion' brought on by prolonged exposure, starvation and lack of water.
That said there are some skeptics. Told Cliff Downing, who teaches sea survival to sailors: 'It just doesn't sound right to me. There are 1,001 hazards that would make his survival for so long very unlikely. One would want to know a lot more.'
In recent years, the closest anyone has come to surviving as long as Jose Ivan are three other Mexicans, also adrift at sea near the Marshall Islands.
They survived on fish, birds and rainwater for nine months in 2006 — their mental health was sustained by a copy of the Bible.
To date the details of Jose Ivan's remarkable journey have been exceptionally difficult to piece together. No one in Mexico has yet come forwards to say that they know the missing man.
Update: And the mystery continues:
dailymail.co.uk: Of his ill-fated companion, all he would say is 'I'm sad for him'. 
Jose said he desperately wanted to phone his family – his wife and his 10-year-old daughter – in El Salvador but he cannot remember the name of the village or a phone number. 'I have forgotten many things,' he told MailOnline.
He has even forgotten exactly how old he is. He 'believes' he is about 36 to 38, even though his ordeal has made him appear much older.
'He is here, with us, but he isn't here with us,' an interpreter who has spoken to Jose told MailOnline. 'He is still disorientated, there is no doubt about that.'
Jose said: 'It has been a long time, but I feel safe now. I know, too that I will get back home.'