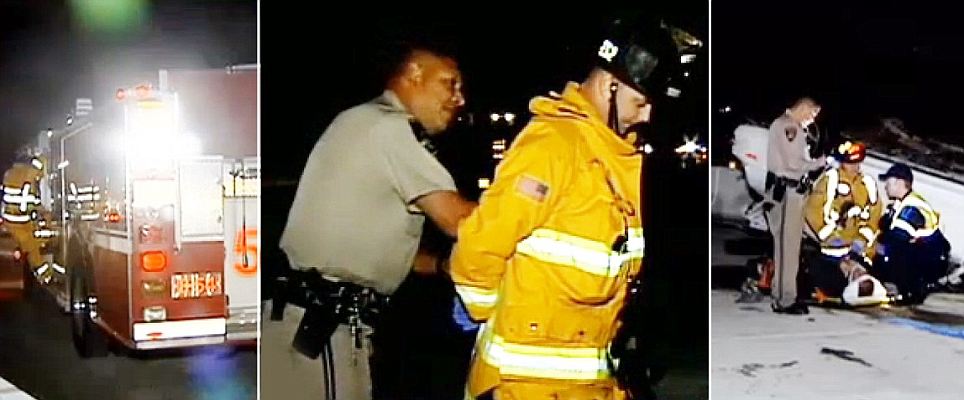 Jacob Gregoire, a 12 year veteran San Diego area fire fighter was arrested by a cop after refusing to move his fire truck as he was trying to rescue victims from an accident.
Video from the accident scene shows a California Highway Patrol officer arresting Chula Vista firefighter Jacob Gregoire, 36, after refusing to move a fire truck positioned to shield rescue workers and accident victims from fast moving traffic along the side of a busy freeway.
The unidentified arresting officer cuffed the first responder and put him in the back of a squad car for 30 minutes, according to CBS 8, which also reported that CHP officers and firefighters have previously battled over accident scene protocol.
ABC 10 went on to tell how firefighters were shocked and dismayed at the sight of an emergency responder being cuffed and led away.
'I did not move our engine so it's still in the initial spot, and we're just continuing with patient care,' a firefighter told the dispatcher.
'This is ridiculous. We're in the middle of patient care with patients on the [freeway] and we're trying to protect our scene … and they're putting him in handcuffs at this time and walking him away.'
Chula Vista Fire Chief Dave Hanneman agreed.
Told the chief: 'To detain one of our firefighters in the middle of an incident is ridiculous.'
Whilst news cameras piled on at the scene of the accident, Jacob Gregoire can be seen shouting that he is being arrested as the officer went on to search his coat before pulling out handcuffs.
'Hey, I just want you to know that he's arresting me,' Gregoire said, pointing to the officer.
'It's unbelievable you have to do this,' the officer told.
Responded Gregoire in turn: 'It's unbelievable that you guys have to treat us like this,'
 'We are on the road trying to help people.' 
'We asked you to clear the road and you said no, and you are getting arrested for not moving it,' retorted the officer in turn.
The cop is then seen leading Gregoire away while his colleagues continue to tend to the victims of the rollover crash. He was held in the back of the police car for about 30 minutes.
A CHP spokesperson has since told that Gregoire's fire truck was the only was the only one out of three not moved in compliance with the officer's request, but fire officials say he was within his rights to not move the truck.
Told Hanneman: 'My engineers and all the crews did exactly what they're trained to do.'
Fire officials also said the police officer also ordered a fire truck with an on duty paramedic to leave before first aid was finished being administered.
The fracas came to be after two people were injured when their Ford mustang hit a roadside barrier, overturning and landing in a construction site. The condition of the two at present is not known.
Responded the president of the local firefighters union, John Hess: 'I'm very proud of Jacob. He did a good job,'
 'He made all firefighters look good. He was there to protect the citizens and he was willing to take a stand to do that.' 
Commenters on the station's Facebook page sided with Gregoire.
'As a firefighter with 30 years experience responding to exactly this kind of incident, I can assure you that the truck was properly placed to provide maximum safety to the crews,' wrote Ernest Chiardonna.
'I normally give Cops the benefit of the doubt, but in this case I can't see any way this couldn't have been handled after the incident,' James Johnson added.
One commenter detailed his issues with the CHP.
'I have been a fire fighter for almost 30 years… in the last few years have had several (6+) incidents with local CHP Officers over where we have parked our engines on incidents,' Gregory White recalled.
'We have had a CHP attempt to cuff a captain, chest butt, threaten and curse firefighters during the incidents,' he continued.
According to fire officials, despite the disagreements in the past with CHP, Tuesday's incident was the first one that ended in arrest.
Several other firefighters explained that the truck was properly positioned to protect all individuals at the scene, police included.
The officer has not been publicly named by the CHP, and it is not clear if any disciplinary action will be taken.
No charges were filed against Gregoire, he continued the rest of his shift after being released.
It is not clear if Gregoire will take legal action.