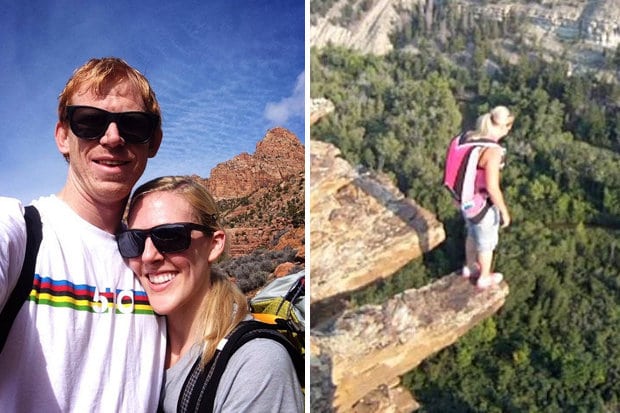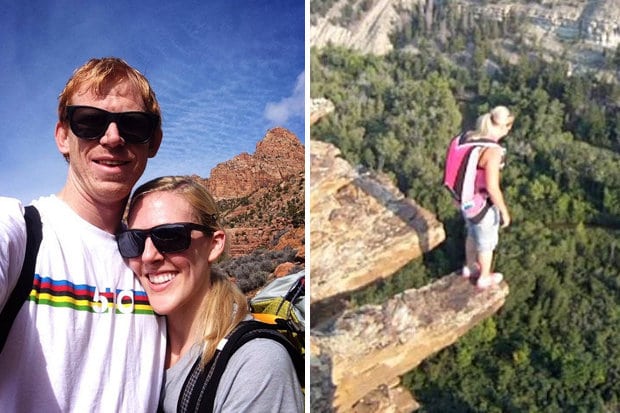 Authorities are trying to make sense of newly wed Amber Marie Bellows' death as she plummeted 2000 ft from a ledge in Utah National Park over the weekend.
The woman, 28 described as an experienced base jumper came to die after her parachute failed to open correctly as she lept off Mount Kinesava in the Utah national park around 4pm this past Saturday.
Charges to be dropped against Amber Marie Bellows husband. 
Watching in horror was the woman's husband of two weeks, Clayton Butler, 29 who jumped after her but could do not much to help her. He was forced to then hike for four hours before he could bring his wife's death to the attention of authorities.
Rather than risk a mission late in the evening, it wasn't until the following morning that rescuers retrieved the woman's' body.
Since the incident questions are being asked as to whether there was any foul play and what exactly may have facilitated Amber Marie Bellows' parachute from opening.
In describing how the woman's death came to be, the husband told how they had journeyed to the popular venue from Salt Lake City and hiked up Mt Kinesava on Saturday, for the express purpose of base jumping. Hiking up Mt Kinesava normally takes up to half a day.
Of note, base jumping is illegal in the park. It is not understood if the couple were aware that base jumping is illegal in the park or if they purposefully chose to ignore the strict rule. As experienced base jumpers one supposes that they were very aware that base jumping from the venue was indeed forbidden. Then again one also wonders if the couple derived extra exhilaration breaking that rule given the nature of exhilaration and dare devil risk inherent in base jumping?
Rather than risk a rescue mission in the evening, it wasn't until the following morning that rescuers retrieved the woman's' body.
The woman's death is the first Base jumping death in Zion National Park noted spokesperson Aly Baltrus.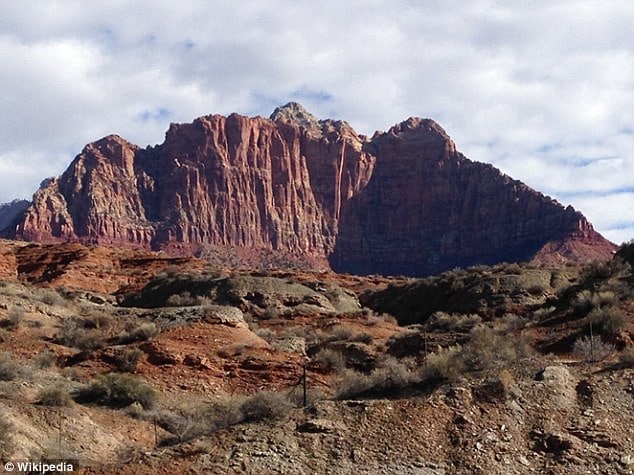 Told park superintendent Jim Milestone: 'It is just really sad and our condolences go out to her family and friends,'
'BASE jumping is so dangerous. Even for those that are experienced, like Amber Bellows. That is one of the reasons it is not allowed in the park.'
Base jumping is an extreme sport where people leap from a fixed object using a parachute.
The acronym Base stands for Building, Antenna, Span and Earth – the types of fixed objects from which a person can jump.
Word of the woman's death has hit the skydiving community in Utah hard. Amber Marie Bellows had close ties to Skydive Utah in Erda, as well as Skydive Ogden. Representatives from both facilities said they were too upset to talk to local media.