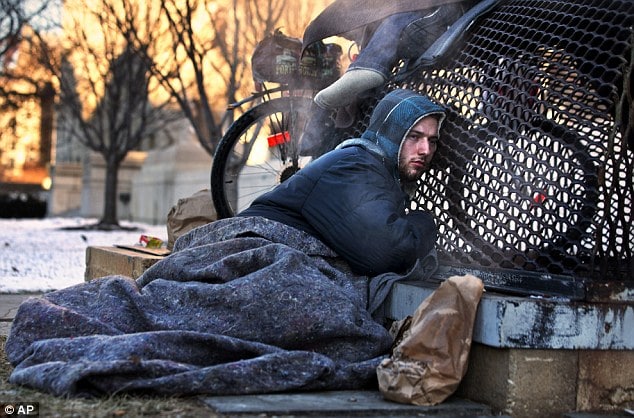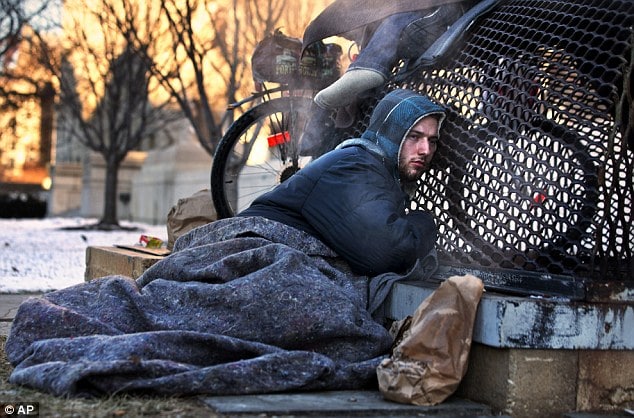 Nicholas A Simmons a 20 year old man has been reunited with his family after they came to spot a picture of him living as a homeless man in Washington DC in lieu of a report of the current freezing weather that has hit the North Eastern corridor of the United States.
Simmons had been last seen leaving his home in Greece, near Rochester, NY on New Year's Day.
After failing to return the young man's relatives launched a search for him by contacting local media and making posts on Facebook.
However, it wasn't until yesterday that the man's parents, Paul and Michelle Simmons, saw a homeless man who looked just like their son in a USA TODAY news report published by the Democrat and Chronicle and notified local police.
The picture showed the man, identified as 'Nick,' wrapped in a blanket just blocks from the U.S. Capitol. It was taken on Saturday by Jacquelyn Martin, a photographer with the Associated Press.
The following day, Greece police contacted their counterparts in Washington who located Simmons and the young man was taken to George Washington University Hospital 'as a precaution.' 
Declared a police statement: 'Simmons was located after he was photographed in Washington, D.C., by an AP reporter,'
'(The) photo ran in the USA Today in an unrelated story and the photo was seen by Simmons' family who recognized him.'
'Nick is alive but obviously not well,' his mother said in a Facebook post hours before her son was located, according to the Democrat and Chronicle.
'We are going to get him home and safe and this is by far the greatest example of God's love and divine intervention I have ever experienced. I am beyond able to put into words how I am feeling.'
According to Facebook, the family reached out to Martin to see if she had any information about Simmons' whereabouts since taking the picture.
'She is NOT with him and we do NOT know if he is in that same spot but we have MULTIPLE people heading to that area,' they wrote.
Family members then headed to D.C. to locate Nicholas A Simmons.
At present it is not clear how the young man got to the city or why for that matter he headed out there.
Of note the young man left behind his wallet, mobile phone and all his possessions when he left his home in Greece, NY five days ago. It is believed 'words' were exchanged prior to the young man heading off.
Told Captain Patrick Phelan: 'As this point we really don't know that much about how he got there or how long he has been there. We are fairly certain he drove there, but why he was living on the streets in D.C., we can't tell you at this point.'
The image of Simmons was one of 126 photos moved by the AP depicting cold weather across the country, showing just how lucky he and his family were that the newspaper's picture desk chose that photo.
After spotting the image at around 10:50 a.m. on Sunday, Simmons' sister Hannah Simmons tweeted at the USA TODAY reporter who wrote the story, Natalie DiBlasio.
The two spoke and DiBlasio asked her photo editor for help contacting Martin. She managed to put the photographer in touch with Hannah Simmons.
Martin offered to return to the place where she photographed Simmons and search for him. It's not clear whether she or authorities finally located him.
Told the photographer Jacquelyn Martin: "I introduced myself and shook his hand and he would only say that his name was 'Nick,'"  
"I told him that if I could write his whole name in the photo sometimes it could help him connect with family and he said, 'No, I'm OK, but you can just write that my name is Nick.'"
Once he was found, his mom, Michelle Simmons, wrote on Facebook that the family was en route to Washington to collect him.
In the post, she added: 'God took that photo, God made us find him… It could have been months before we had a lead on his whereabouts. My baby looks so lost and I will be spending the rest of my life making him well.'
To date commentators on the web have wondered why the family did notice their son going through some breakdown and whether in fact the young man is in the throes of mental illness…
Update; Family friend Peter Gugino has told Nicholas Simmons was discharged from a hospital Sunday night and spent the night in a Washington hotel with his father and older brother. Gugino says the three men are now heading home by car to Greece, N.Y.