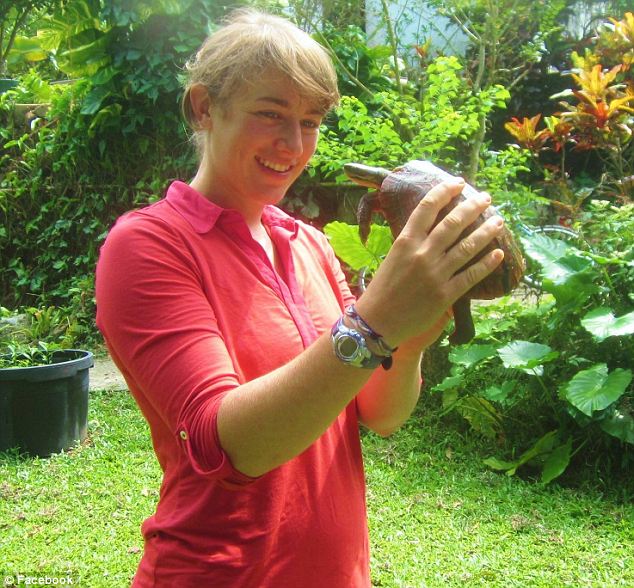 Lily Glidden, an animal lover had the misfortune of being trampled to death by a group of elephants whilst traveling alone in a national park in Thailand.
Her body came to be found after the 24 year old had been missing for 5 days. Authorities tell upon finding her body it had been so badly mangled that they immediately came to the conclusion she had died after been trampled upon by the wild animals.
At the time her disappearance sparked a manhunt that involved up to 70 people.
The incident is said to have come about after the newly graduated Tufts graduate of Freeville, New York, had been taking pictures of the animals in Kaeng Krachan National Park, just outside Bangkok.
Told the woman's family in a statement: 'We believe that what happened to Lily was a result of unknowable and unusual circumstances which she must have been unable to foresee or prevent.' 
'Lily was very aware of the dangers of working with wildlife and not a person to court foolish risks, particularly where animals were involved.'
'She had an educated and dedicated respect for the natural world and was completely comfortable in it. She did extensive solo hiking and backpacking in many parts throughout the West and knew how to respond to chance encounters with bears and other potentially dangerous animals.'
'She was also a fearless individual… We would wish her remembered as an extremely competent.'
Offered police Col. Woradet Suanklaai: 'Looking at the pictures she took in her camera, we see a lot of animals, birds, snakes, lizards,' Woradet said. 
'We assumed she wanted to take pictures of elephants because that's what the Kaeng Krachan National Park is famous for. We believe she wanted to find them and take some photos.'
It is understood Lily Glidden had taken courses at the Vermont Wilderness School and the Wilderness Awareness School in Washington and wanted to work as a vet.
Some on the web have openly wondered if Lily Glidden had provoked or mistreated the animals to force them to so trample her whilst others wondered if it was the fact that she was up so close in their habitat that the creatures had no way of reckoning of her being.