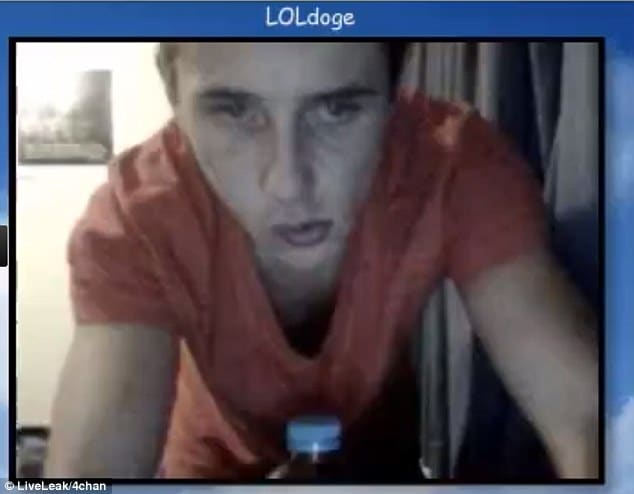 A 20 year old man identified as 'Stephen' this weekend was egged on by up to 200 4Chan viewers to set himself on fire as the 20 year old contemplated suicide.
At the time, Stephen announced on the anonymous 4Chan website that he intended to commit suicide and broadcast the event for others to see.
Yet rather than dissuade the man, the anonymous 4Chan viewers went on to egg the man as he contemplated setting his room on fire and in the process killing himself.
In fact 4chan viewers even helped the young man set up a video stream for which his live suicide would go on to be telecast as a 'hero.' A slang term in the internet community.
After 200 users had signed up to his video stream, 'Stephen' swallowed a handful of pills and drank vodka lighting a fire in the corner of his room about 7pm on Saturday.
He retreated under his bed as smoke appeared to billow around him.
Wrote the young man: 'As an oldf*g who's been on 4chan since 2004, I thought I would finally give back to the community in the best possible way,'
'I am willing to an hero [commit suicide] on cam for you all.
'All that I request is for you guys to link me to a site where I am able to stream it for you guys.'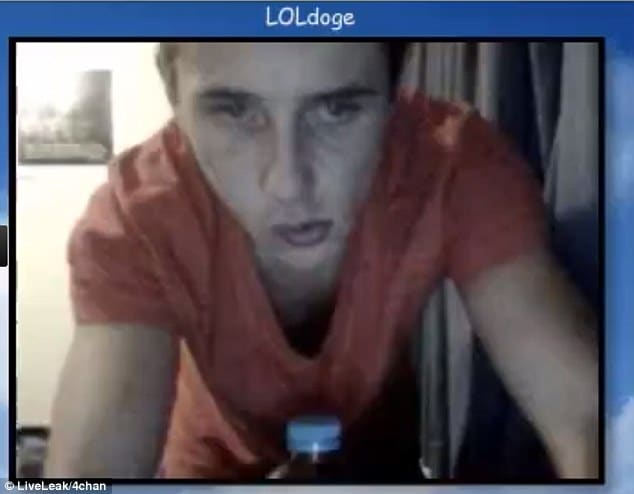 The Daily Dot reported another user set up a video chatroom on streaming website Chateen which 'Stephen' joined.
'Stephen' used the username LOLDoge, a reference to a meme featuring a photo of a Shiba Inu dog that is popular on 4chan.
With 200 viewers – the maximum allowed on Chateen – watching him and even more trying to get in, Stephen downed booze and pills before setting his room alight.
As the camera rolled, he crawled under the bed where he typed: '#imdead #omgimonfire' and
'I'm f*ck3d'.
The video, still available online, shows firefighters pulling him out of the smokey room.
Told one viewer wrote: 'Let's all of us use his photo as wallpaper for one week. He's doing it.'
Another who was frustrated at not being to watch the suicide attempt because the chat room was full wrote: 'Leave someone so we can join.'
Another anonymous user wrote: 'PROVIDE PICS ROOM IS FULL DAMN IT.'
A spokeswoman for the University of Guelp confirmed that the incident took place on campus.
Told a rep to the UK's dailymail: ' The troubled man's mother was at his hospital bedside and was 'not in a good place psychologically'.
'A fire was reported at 7.40 on Saturday evening and fire and police responded. The fire was put out and they found the injured student.
'The damage was confined to the student's residence but students were evacuated as a precaution.
'We were suspicious the fire had been started by the student but the police began investigating.
'When videos started circulating yesterday (Sunday) meetings were called with university staff and students and counsellors brought in to be available to any students as obviously it's a disturbing situation.
'We are also advising students not to watch or share the video. We're trying to take it down but it's on so many guerrilla sites it's almost impossible to do that.'
Went on to tell Brenda Whiteside, Associate Vice President for Student Affairs : 'We haven't been able to speak to the student yet. He's in hospital and he's going to be okay.
'He can't talk to anyone at the moment. His mum is with him and we may be able to talk to him in the next day or two. He's going to be in a fragile state. We're respecting his privacy and need to recover with the interest it's a difficult balance.'
According to the Guelph Mercury, the victim was rushed to hospital with 'serious but non life-threatening injuries' caused by smoke inhalation.
Two staff members were also taken to hospital but were later released.
120 students were evacuated and 42 remain out of their rooms as the investigation continues.
They are now being put up in temporary accommodation.
An anonymous user posted their own account of the incident, claiming 'Stephen' had taken prescription drugs in his dorm room, cheated on his girlfriend, was disowned by his parents and 'in debt for useless degree'.
'Stephen' has quickly become the subject of taunts and jokes on the message board, being dubbed 'Toaster Steve'.
Then there was this reflection on the web that made me wonder:
Should anyone really be surprised that this young man tried to attempt some kind of virality, meaning or validity in his life by choosing to become a martyr. It's an age old world phenomenon except this time it came on the web where a pack of hyenas came looking for blood, just like they used to in Roman amphitheaters. Are we really surprised at the human condition going so far? Just wishful…