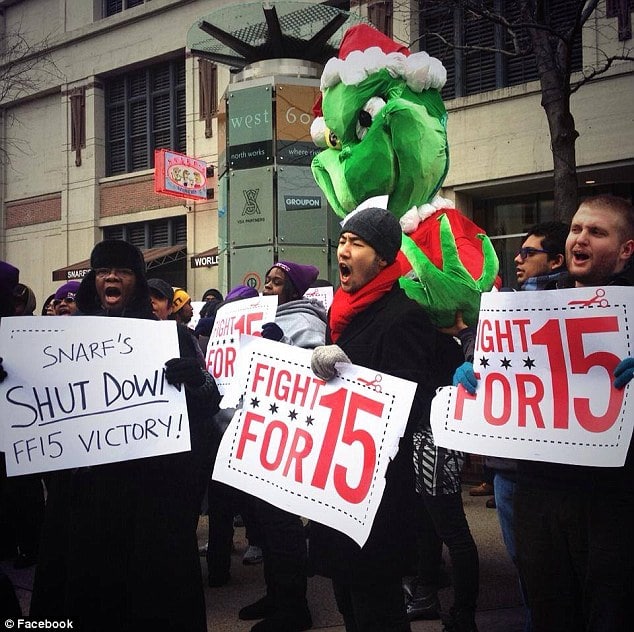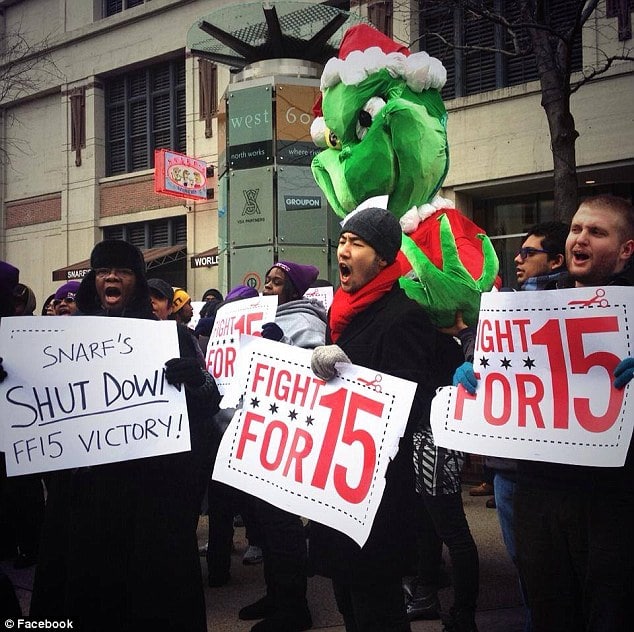 A Chicago sandwich shop, Snarf's Sub Shop has fired its entire staff via email just days before Christmas.
Staff went on to receive a group email last night notifying them that the firings were effectively immediately.
The company blamed 'increased competition and losses' for the firings.
Director of operations Doug Besant told in the email the restaurant will likely close for a month as they remodel and re-concept the business into a burger joint.
Interestingly the firings comes less than a month after Snarf's workers rallied for higher wages.
The email, obtained by ChicagoGrid.com, read: 'Due to increased competition and losses, ownership has decided to consider remodeling and reconcepting the store at 600 West Chicago Ave.
'The store is closing, effective tomorrow, December 23, 2013 for an unknown period of time for this remodeling and reconcepting. All staff is terminated, effective Monday, December 23, 2013.'
The note encouraged staff to apply for unemployment benefits, if eligible and told them to return any keys and company property by today.
Signing off in the note, Besant went on to tell: 'Keep an eye out for the grand opening of the new store. Ownership appreciates your service and wish you well in your new endeavors.'
The River North Snarf's shop was closed for four days, from December 5 until December 8, as employees went on striking for higher wages and better benefits.
They joined workers of fast-food chains like McDonald's, Subway, Potbelly and others in a broader strike orchestrated by the Worker's Organizing Committee of Chicago.
Nevertheless, Jill Preston, the sandwich shop's director of marketing, denied the mass firings were linked to the protests. She told it was due to the slow Christmas season.
Told Preston: 'During the Christmas holiday we're pretty slow,'
'The restaurant's usually three quarters closed. This does happen to coincide, but this is something we've had planned for awhile.'
Since last night's firings, members of the Worker's Organizing Committee of Chicago gathered outside the store this morning demanding severance pay and re-employment for the fired staff.
Communications director Deivid Rojas went on to tell ChicagoGrid.com: 'Three days before Christmas and not even a call. It's not fair that management and the corporation is treating (employees) this way.'
Preston  went on to incidentally add that fired staff will be allowed to reapply for their jobs when the restaurant reopens in the new year.
Of course one wonders if the workers will be encouraged to apply for the wage increases they fought and won or minimum wages?
Then there were these comments that made me wonder as well:
Rojas thinks its not fair that they weren't given notice? Is it fair that these employees went on strike not once but twice with no notice and caused the owners to have no choice but to shut down for several days and lose money and customers.. From what I hear, Snarfs treats their employees well as they are paid more than minimum wage and get a free meal daily… I'm looking forward to Snarfs reopening in the new year as I love their sandwiches and looking forward to whatever new concept they are bringing to Chicago.
The action of notifying everyone by e-mail – and some people working for low wages might not have e-mail – shows how completely unprofessional the owners are. 
Has the person who "has heard the store treats their employees well" ever worked there or know people who are currently working there?