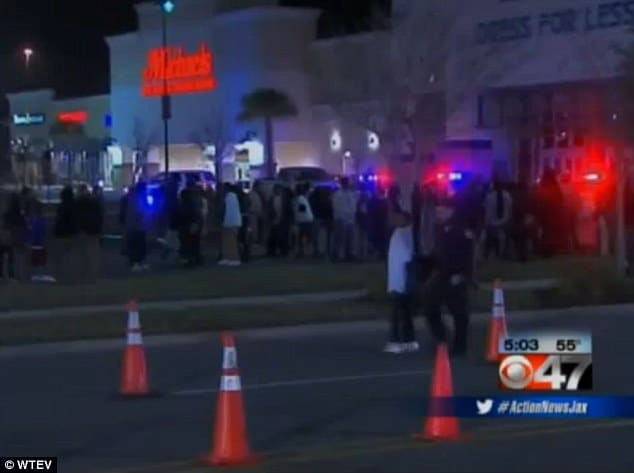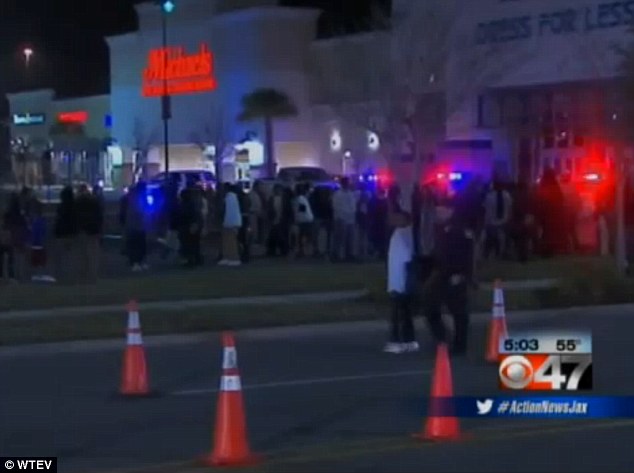 A brawl involving up to 600 individuals this past Christmas evening led to 5 individuals arrested at Florida's Jacksonville's Hollywood River City 14 movie theater.
The brawl purportedly happened after a group of young individuals stormed a local movie theater without paying circa 8.30pm.
The onslaught would eventuate in one security guard locking doors and spraying pepper spray into the mouths of youths.
From there a flurry of fights erupted as up to 60 cops had to be brought in to contain the youth who by now were jumping on cars in adjacent parking lots.
Cops were able to subdue rioters with only minor injuries and damage reported.
Told one youth, Alecia Williams who had been approaching the cinema at the time when cops forced her to turn around: 'I saw a whole bunch of people fighting,' 
'I got out of there as fast as I could. I got really scared.'
Five teenagers were arrested and charged with crimes related to fighting.
Tevyn Alonza Davis, 19, was charged with resisting arrest and breach of the peace.
Jaquade Marquis Miller, 18, was charged with fighting and resisting arrest.
Khalil Ahmad Bradley, 17, the only minor charged with a felony, was arrested for resisting arrest, refusal to disperse and breach of the peace.
Two other juveniles, charged with misdemeanor, have not been identified due to their age.
In lieu of a proposed $2,500 bail and jail time, Miller was offered an eight-week program that teaches accountability.
Told Felicia Taylor, Miller's mother: 'I'm happy and grateful to see that there are people who stand by you whether you are right or wrong.'
Meanwhile, the judge ordered that Davis be sent to the military immediately after learning the teenager was scheduled to report to U.S. Army basic training on Sunday.
Then there were these comments on the web that made me wonder too:
I don't care what color you are this straight ignorance pay for your ticket like everyone else. You can't blame every black person for some crimes made by ignorant black individuals! Are all white people mass murder because of Columbians or sandy hook? Hell no !!! This world is lacking COMMON SENSE PEOPLE DON'T THINK BEFORE THEY ACT!!!!!!!
Should we be alarmed at the suggestion that is a 'black' crime? But what makes one crime black and the other white? And why are these axioms being implied? If a white man or group of white people go on to create a crime do we term that a 'white' crime? 
These kids need help not constant ridicule, contempt and rejection. They are the product of America's failed institutional policies that creates borders to control groups of people. These kids are misguided, misdirected, and miscellaneous to the vast majority of American society who take advantage of all the opportunities that these misguided blk kids give them and act like they speak for the whole group. Black people come in all shades, shapes and backgrounds. But the sad thing is from the President to Oprah to Jay Z and Beyoncé no matter how successful and inspiring they will always be labeled 'inferior' to any white counter-part .
There is a certain group or generation of black people who are like a cancer to the black community. As long as there is "NO Voice" or action to combat this group, the good will suffer with bad. As long as people keep turning their nose up and being in denial facing the black community, there will continue to be chaos and turmoil. The problem is a whole generation, kids being born into broken families, not being taught proper ways to live in life. If the problems persist, 15, 20 yrs from now the black community will be obsolete.