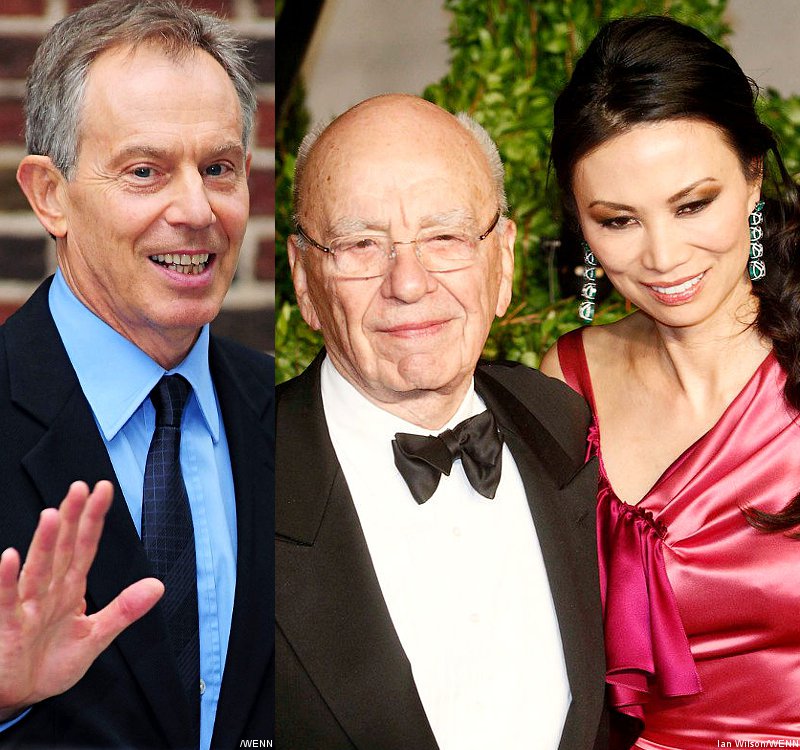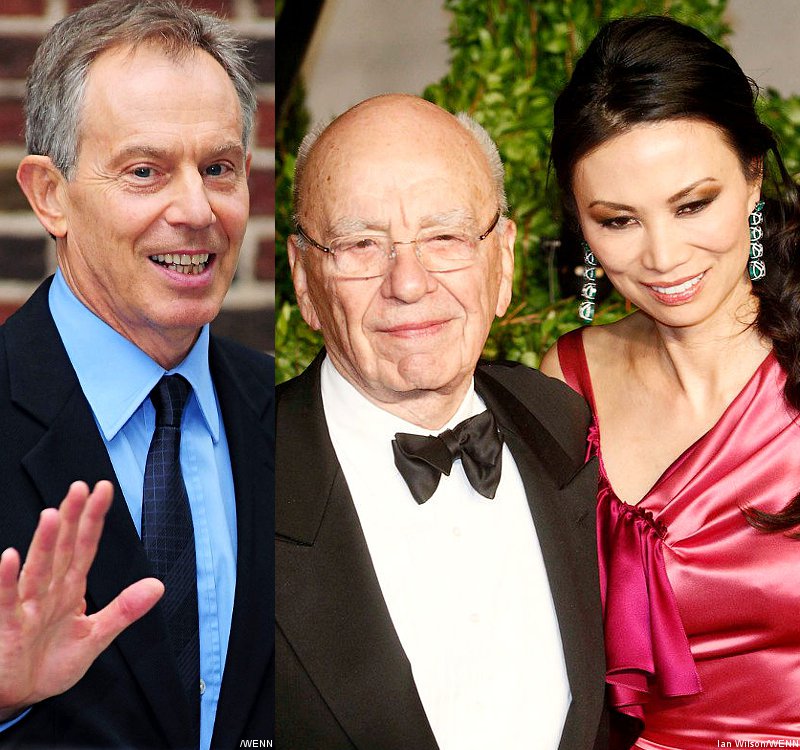 Oh really? Tony Blair insists he didn't have an affair with Wendi Deng.
Twitter awash with theory as to why Rupert Murdoch is divorcing Wendi Deng.
Oh really? Rupert Murdoch is divorcing Wendi Deng.
Sources close to Rupert Murdoch are tonight reporting that relations between the media mogul and former British Prime Minister, Tony Blair have turned frosty as suggestions of impropriety may have gone on between Tony Blair and Murdoch's former wife, Wendi Deng.
In fact so dire have relations between Rupert Murdoch and Tony Blair become, it is understood that the media king pin has rebuffed every attempt the former Labor Prime Minister has made in reaching out.
Other sources now tell that Murdoch considers his relationship with Blair over.
Told a long time ally of the 82 year old media titan to the UK's dailymail: 'Rupert Murdoch will have nothing more to do with Tony Blair. Not ever.' 
The source of tension comes after assertions were raised that something amiss may have gone on between Rupert Murdoch's former wife, Wendi Deng when staff at Rupert Murdoch's Californian home told that the Tony Blair stayed there overnight without Murdoch's knowledge on weekends in October 2012 and April of this year.
It is also claimed that Mr Blair and Ms Deng had 'multiple encounters' of which Mr Murdoch was unaware. They are said to include a weekend overnight stay at Mr Murdoch's home in Los Angeles and meetings in London and New York.
The assertions have been made public only a week after the Murdoch's divorce from his 44 year old wife became finalized in a US court. Something that may or may not have been coincidental.
Told a close friend of Tony Blair's: 'Rupert Murdoch is putting out ridiculous stories about Wendi and Tony which are not true. It is the ravings of a sad old man.'
Retorted a source close to Rupert Murdoch: 'Rupert has been thorough, careful and has not acted lightly.
'If you think that Rupert made a decision to end his marriage and a long-term friendship without just cause, you are sorely mistaken.'
An individual who has known Mr Murdoch for many years, went on to cryptically tell: 'Rupert and Wendi's marriage was already in a bad way. But the connection with Blair did not help.'
The breakdown in relations comes off the back of Tony Blair having become a close friend of the media titan which culminated in Tony Blair becoming godfather to the Murdochs' daughter Grace in 2010.
Sources close to Mr Murdoch claim Ms Deng and Mr Blair also met in London – where Murdoch owns a luxury apartment near The Ritz hotel – and in New York.
They are also said to have stayed overnight in Los Angeles, where Murdoch also has a home.
It is understood that the Murdochs' daughters, Grace, 11 and Chloe, nine, were not present at any of the alleged meetings.
Mr Blair's friends are adamant that the relationship between him and Ms Deng was 'entirely innocent and above board.'
Told one friend : 'They never met alone, there were always others around. 
'They are friends and Blair is godfather to one of the couple's children, for heaven's sake.'
The claims come despite Tony Blair having been happily married to his wife Cherie of 33 years.
Allies of Mr Murdoch say he was 'shocked' to learn Wendi had met Mr Blair without his knowledge, and on more than one occasion – and in particular that Mr Blair had been in his home without him knowing.
It is understood he asked her for an explanation. Her reply is not known. 'From Rupert's point of view, she was not completely open with him and he disapproved of that,' told one source.
Assertions of an affair between Mr Blair and Ms Deng first made the rounds when Rupert Murdoch filed for divorce in June. Rumors were sparked by a tweet from BBC journalist Robert Peston who said: 'Am told that undisclosed reasons for Murdoch divorcing Deng are jaw-dropping and hate myself for wanting to know what they are.'
At the time, a spokesman for Mr Blair denied he had had an affair with Ms Deng.
The friendship between Ms Deng and Mr Blair was well known long before the Murdoch marriage break up. In 2012, in an article in the Guardian newspaper, headlined 'Tony Blair and the Murdochs: a family affair', Murdoch's biographer Michael Wolff described Mr Blair as 'one of Wendi's first official social conquests.'
The UK's dailymail goes on to reiterate a spokesperson for Rupert Murdoch has declined to comment, as did Wendi Deng's spokesman. The outlet goes on to tell that they emailed questions to Tony Blair's spokesperson yesterday morning. They told they would reply later in the day, but despite repeated calls and emails, have declined to make a statement.
A source close to Mr Blair said that he had insisted claims of an affair were 'categorically untrue' and that remained his position. No word as of yet from Wendi Deng whose immediate where abouts are unknown at present.
above image found here