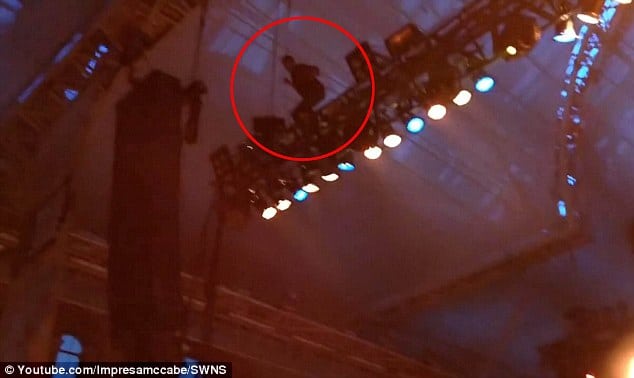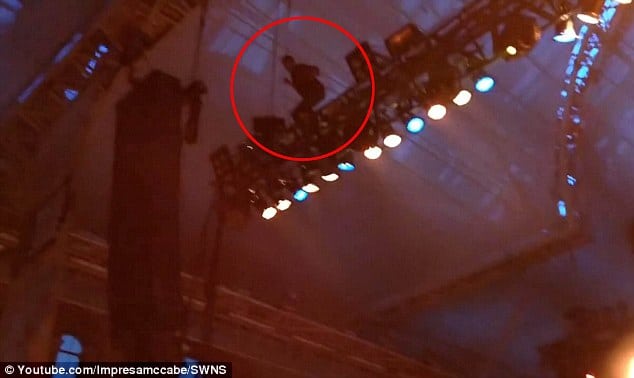 US rapper George Watsky has apologized to a female audience member after a stage dive stunt he went on to perform horribly wrong and the bixch broke her arm.
It all came to be when rapper George Watsky was performing at London's Alexandra Palace when he took to climbing up the stage on a rope before launching himself onto the audience from 30ft.
At the time of the jump the rapper had anticipated the audience would catch him (is the man crazy at a height of 35ft ?) when instead audience members cleared and the rapper ended up falling on the woman who took the brunt of his fall..
Went on to apologize the rapper via Facebook: 'I decided to jump due to a a "huge overreach in the heat of the moment."
Went on to tell the rapper: "The jump was not awesome, it was not badass, and it was not ballsy. It turned what should have been a great day for the people who got hurt into a nightmare. It was stupid and wildly irresponsible, plain and simple.
"I pride myself on trying to put on a good show and always giving 100 per cent energy, but jumping off some high s**t doesn't make someone a good musician or performer. I feel f***ing terrible. I made a boneheaded decision that got people hurt, and it's extremely lucky it wasn't worse."
Interestingly rapper George Watsky went on to tell he was not under the influence of drugs or alcohol when he performed the stunt, and said his health was "fine, besides some nicks, bruises, and the shame of endangering the crowd."
Stunned audience member Alex McCabe who caught the leap on video went on to tell the following: 'Watsky was obviously so pumped the crowd was loving him. At the start of the song he asked us if we had his back no matter what he did. Everyone shouted 'yes'.
'At the end he climbed the rigging, and as no one stopped him we thought it was scripted. He stood at the top and jumped.
'The crowd parted and he hit the concrete taking a couple of people with him.'
Since the ordeal the rapper has gone to hospital to visit the two audience members who were injured, and stayed with them for six hours until the visiting period had ended.
He confirmed he would not be cancelling his remaining six tour dates in the UK.
"I will do the shows, as usual I will meet everyone afterwards, and I will NOT be jumping off anything. I am deeply sorry and I promise to learn from this mistake,"