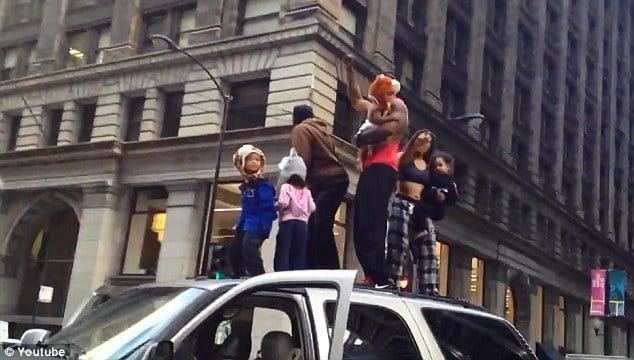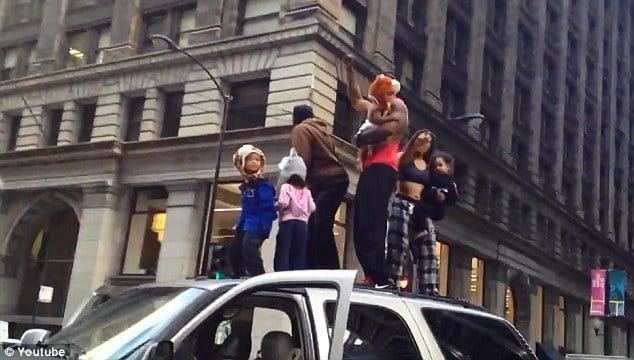 It seems one SUV's occupants in Chicago couldn't help but let the good times rolling. Case in point the three individuals who ended up being arrested after going on to stop in Chicago's inner city intersection, the Loop, causing traffic disruptions after stalling their automobile to climb the top of their SUV rooftop and dance. And how…
At the time authorities tell the group of two men and one woman were traveling along with four small children when they they stopped in the intersection between LaSalle and Monroe streets in downtown Chicago on Thursday afternoon around 1:15pm.
The 59-year-old man, 36-year-old man and 27-year-old woman then clambered onto the roof along with the children and began to dance to Ellie Goulding's song Lights.
As the group stopped to dance, incredulous passerbys proceeded to video the proceedings.
Mobile phone videos go on to show the SUV's occupants dancing away without a care in the world, their doors wide open with the adults holding the infants as they danced away.
In one instant, one of the dancers appears to have words with a woman standing on the street as she proceeded to take note of the SUV's registration.
Yes kids never tell your dancing SUV driver when to quit…
Other footage captures a different woman exclaiming that one of the babies isn't even wearing socks in the chilly Chicago weather.
According to NBC Chicago, the group is from San Tan Valley in Arizona.
The three adults were taken into custody and charged with misdemeanor endangerment to a child.
The children are now in the care of the Illinois Department of Children and Family Services.
So much for getting the attention you wish for…