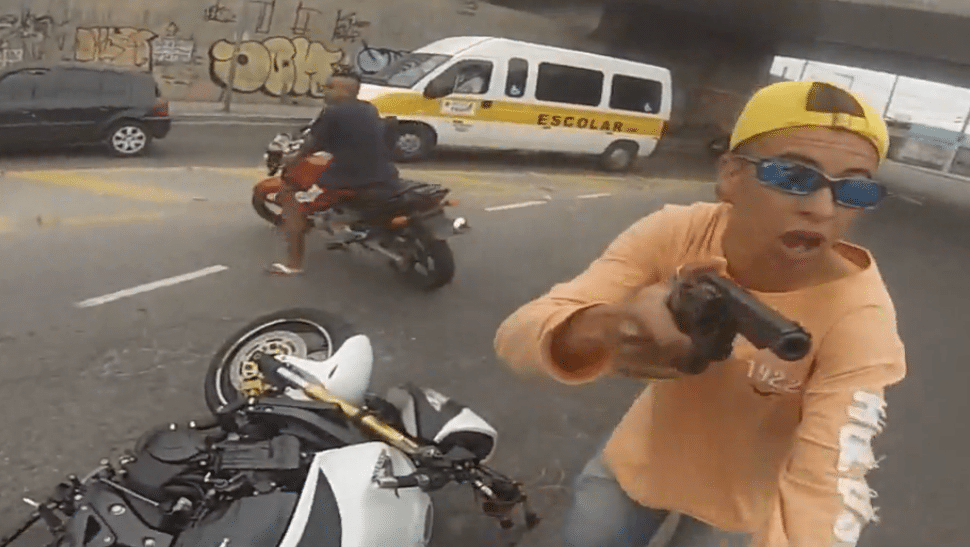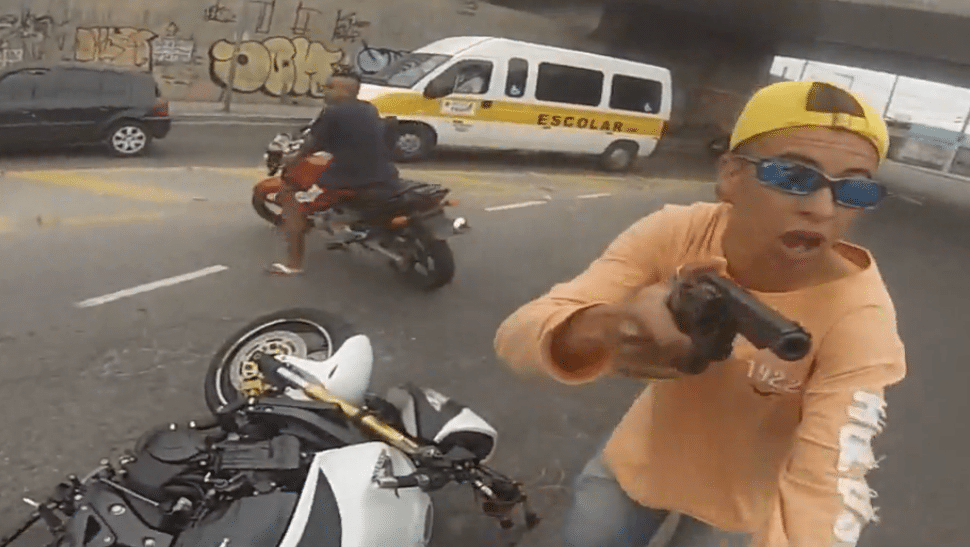 A shocking video depicting the scene of a Brazilian undercover cop shooting dead a man attempting to steal a motorbike has gone viral.
The scene caught on the motorcyclist's cam video recorder on top of his helmet goes on to show the cyclist being stopped at gunpoint whilst coming to a stop at a stoplight.
Goes on to describe gawker: The video begins with the driver navigating the streets and then, when stopped, a man shoves a gun into his face and demands he get off his bike. The driver gives up motorcycle and the thief takes it from the ground, only to be shot twice by a police officer on the other side of the street. The whole scene is quick and surprising; those mingling around and driving by post-shooting seem to be displaying a relatively disturbing blasé attitude.
It is thought the cyclist like many have taken to carrying the video recording devices as a form of insurance in the ever increasing incidents of altercations on the streets of Sao Paulo, Brazil.
The scene eventually found its way on social media outlet, reddit where users have gone on to translate the transaction (see below) and to go on debate the ethics of shooting dead, thieves in cold blood.
Many commentators on the web are arguing that thieves deserve the harsh instant punishment that is meted out to them as the ever prevailing dangers of crime, abduction and harassment on the rugged streets of Sao Paulo show little sign of abating.
That said, it's worth noting that the officer acted in apparent self-defense. The following screengrab, as mentioned on Reddit but reproduced below, shows the robber drawing his weapon at the 59-second mark.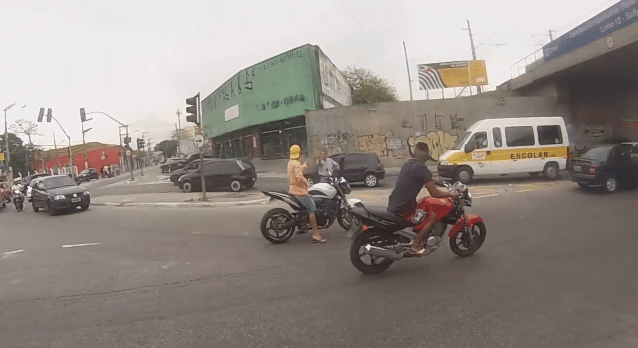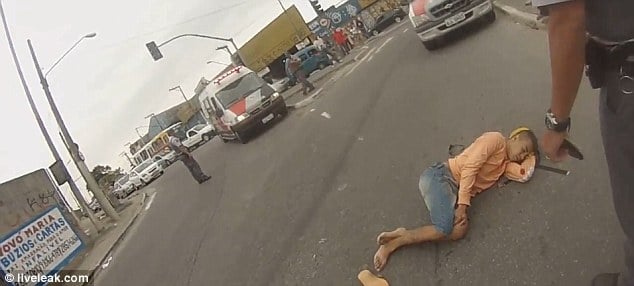 Victim: Now you're gonna rob in hell you son of a bitch.
Robber (whining): I got shot!
Victim (pissed off): You go fuck yourself! You're the one pointing gun at other people's face!
Robber: Oh, I'm gonna die.
Victim: You sure will! You should have already! Son of a bitch.
Robber inaudible, apparently asks someone to get him something to drink.
Victim: You're gonna drink in hell! You're gonna drink the devil!
Commentators have since gone on to call the cop a hero and to opine that the thief got what he deserved whilst others nonchalantly go on to tell that it is just another day in Brazil, which of course raises the question how did the degree of lawlessness become so and what remedies if any are at hand to address the deep social divide that so often inspires these crimes, or is it simply a way for some to get off and try their luck at the diabolical? Even if it sometimes means their instant death.
The video of the incident, uploaded to YouTube by user Anderson Mangai. Viewer discretion heavily advised.
According to the user who posted the video, the thief later died from his injuries. Needless to say the lack of urgency to get the man to medical care may have something to do with his ultimate death and that too may go some way in explaining the attitude towards robbers and those who in the community who feel compelled to commit crime to get ahead, and why they in turn feel compelled to do what they do…
Brazil, living the life you didn't necessarily bargain for…