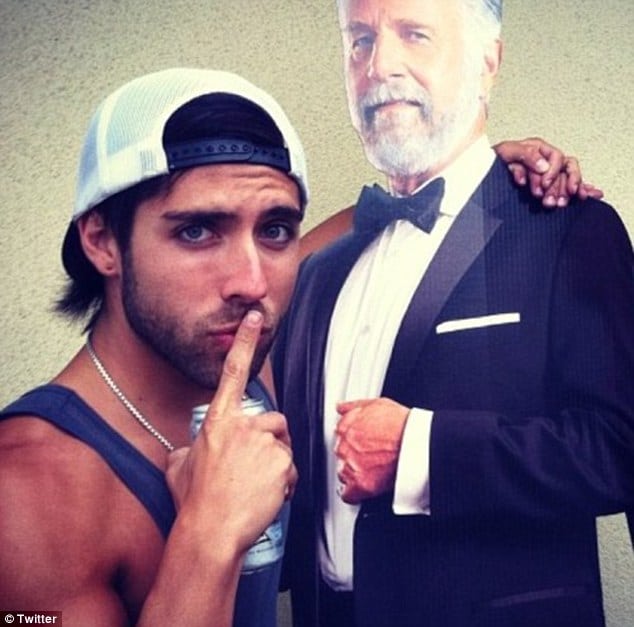 Robert Mawhinney, otherwise known as Robb 'TaLLLLL' University has gone on to be plead guilty to bilking more than $11 million from 4 different banks and using it to front a 'fake' lifestyle as he aspired to make it as a rocker.
As the lead singer and sole member of his band, 'Lights over Paris,' Robb 'TaLLLLL' went on to illicitly use money he was able to acquire through bank loans to front the illusion that he was on the go and a verging success story.
As part of his 'act' he went on to use the illicit money to enlist rapper The Game for one of his videos as well as having a customized tour bus emblazoned with the group's name.
Prosecutors went on to tell yesterday in a Los Angeles court room how the faux rocker gave lenders statements that claimed he had nearly $8 million in assets, but in actuality it turned out his account had less than $10,000.
From there prosecutors claim the rocker  'used the millions of dollars that he fraudulently obtained for the selfish purpose of funding his fantasy of being a rock star.'
At the time when Mawhinney sought to acquire funds he told it was for the purposes of finishing a recording room in the studio, among other expenses.
That said one wonders why the loaning officers thought to lend the faux rocker so much money for such simple projects. Perhaps they too were blindsided by the rocker or were looking to carve up generous terms for the release of the money, blinded by their own greed as well as the veneer of the faux rocker….
In telling of his lifestyle that the ill gotten money financed, the court heard the rocker by all means lived like a rock star, staying in a 35-story luxury high-rise in downtown Los Angeles and taking trips to the Caribbean, Europe and South America.
Other expenses including acquiring a $750 000 tour bus which once went on to be featured in Limo Digest.
Prosecutors told the rocker had attempted to pay off of some of his loans with proceeds he received from earlier payouts but eventually defaulted.
Told the rocker's girlfriend, Lauren Phillips yesterday in the courtroom as Mawhinney awaited sentencing: "I know that Robb knows what he did was wrong, but what I also know is that a lot of what Robb did came from the passion of wanting to live out his dream, the dream of being a rock star," Phillips wrote in a letter to the judge. "Starting Lights Over Paris was not a selfish attempt at fame, but rather a way to involve so many people in a shared dream."
Interestingly the band's official Facebook page shows only 66 likes, something loaning bank officers may have bothered to have noticed…