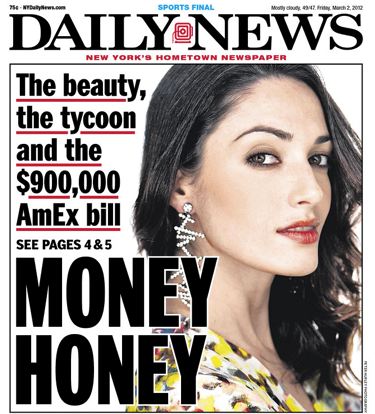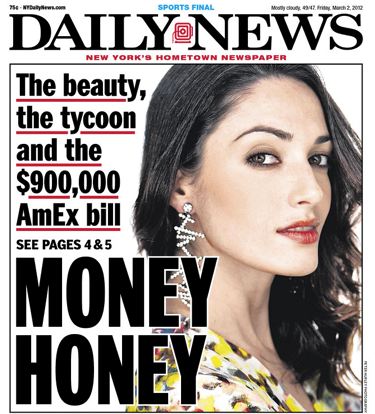 Personal assistant, Renata Shamrakova who stole from Nicky Hilton's ex is facing almost jail time as she struggles to come up with the $1 million she stole from Todd Meister.
To date the personal assistant has been told she must either pay off Meister what she stole from him or face the real possibility of 3 years jail.
In an effort to help come up with the debt, the woman's parents are said to be in the process of frantically selling their home, with $179 000 raised so far but still way short of the $1 million she needs to come in total. It is understood her next installment is due December 20th.
The Ukrainian assistant who went on to embezzle her employer's funds in 2011 has now turned to social media in an attempt to raise the necessary funds yet her campaign has been met with derision as she has only managed to net a meager total of $335.
Things are said to have come to a head in March when the Ukrainian beauty confessed to taking out two American Express cards in Meister's name and spending $900,000 traveling to Aruba, Canada, France and Italy.
The Ukranian-born swindler is said spent the money while working as Meister's assistant between March 2011 and January 2012 – and while no court records have identified her employer – it is a well-known fact that it was Meister.
As she appeared at Manhattan Supreme Court on Tuesday to update a judge on her progress with the restitution to Mesiter, the woman went on to tell that she was now engaged to mystery man she described only as 'Jewish' and 'with dreamy blue eyes.'
'I'm passionately in love,' she told the New York Post. 'I've met my match and couldn't be happier.'
Going on to sport a diamond engagement ring, estimated to be at least two carats, Renata Shamrakova went on to tell  that she would never sell it because it wouldn't dent the total debt she owes.
Told the former personal assistant:
'Everyone is going to say I should sell it,' 
 'But it wouldn't come close (to satisfying the debt).'
Explaining that her fiance is in fashion she took a dig at Meister.
'He's not in finance. I wouldn't make that mistake twice,' said Shamrakova.
'He is a family man and very devoted. He stuck by me through this and I'm so grateful.'
Shamrakova also went on to tell if she avoids jail she plans to wed in East Hampton.
In addition to the credit card fraud, Shamrakova also bought thousands of pieces of jewelery which she then sold online for cash and paid off the credit cards by writing checks from her lover's JPMorgan account without his knowledge.
She  also tried to spend some of the stolen money on starting up a jewelery curating business called Karat & Ice which she called a 'trusted carrier of authentic quality designer merchandise.'
Yes kids, the irony is too palpable.
In court, Shamrakova tried to argue that she was in a relationship with Mr Meister, but he denied that, saying: 'The women I date are far more highly educated.'
Nevertheless one wonders how even if the two were in a relationship that would justify taking Meister's money, unless of course that is the implicit expectation that certain women about town have…
The New York Daily News reports that Shamrokova needs to raise $425,000 before December 20 in order to avoid jail-time, and then she will be allowed to raise the rest of the money by March 2015.