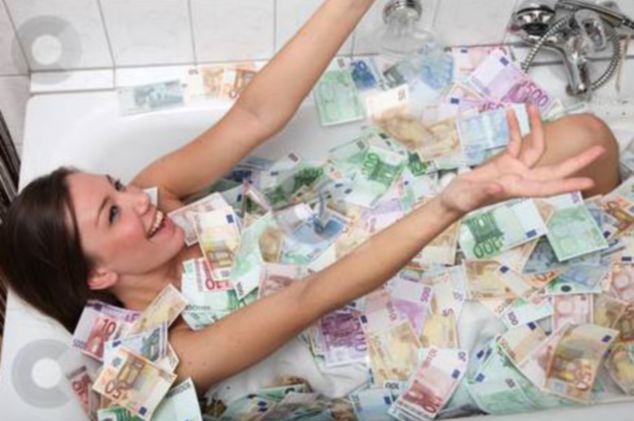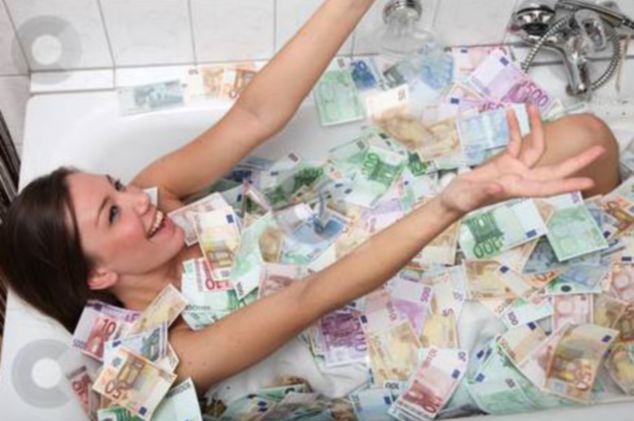 Jeane Napoles, a wealthy Philippine socialite went on to receive the shock of a lifetime after bragging on the web about her wealth led to a sudden visit by the taxman.
It all came about after the young Philippine socialite posted pictures of herself partaking in the good life.
Choice images that Jeane Napoles posted included her parading in designer dresses, jewel encrusted shoes, zipping about in fast cars and of course taking a bubble bath in bucket full of money.
The images not surprisingly have not gone down too well on the web (there's a reason why rich people keep quiet bixch) in a nation where an estimated 28% of the population live in abject poverty.
It wasn't too long before the Philippines Bureau of Internal Revenue came hunting for the yummy money that the 23 year old Phillipines socialite had failed to tell them about.
Told Kim Henares, chief of the Philippine Bureau:
'We read the newspapers. We follow the Internet. That is where we heard about her.'
Chic! Kids can we all raise a toast to Jeane. She deserves a couple of bottles of the good stuff to be tossed in the bathtub along with her Monday morning vomit.
The UK's dailymail goes on to describe that Jeane Napoles, a fashion design student (naturally) owns a Los Angeles condominium at the Ritz Carlton, valued at $1.3million (£795,000), as well as another property worth $339,000 (£212,000) in her home country.
Interestingly ABS-CBN news has since gone on to report that the American property is up for sale.
According to Kim Henares, Jeane Napoles has not filed any US tax returns since 2008, despite being a registered taxpayer.
Told Henares: 'We have always said there is nothing wrong with being rich as long you pay the right taxes'
The socialite's tax liabilities went on to be calculated to be at $744,000 (£465,000) for the last two years alone.
But it gets better. Much better. Hold on to your Gucci handbags….
Janet Napoles, a businesswoman and Jeane's mother, has also interestingly found herself being investigated for allegedly helping Philippine MPs embezzle up to $232million (£145million).
Three opposition senators as well as former president Gloria Arroyo, who is in jail for election fraud and graft, are among those swept up in the investigation.
Since launching her tax probe, Kim Henares has denied any political motive in seeking to enforce tax laws. You think?
Offered Kim Henares: 'Whether it is her fault or her mother's fault, someone will go to jail,'
At present, three opposition senators as well as former president Gloria Arroyo, have been charged and found guilty of crimes, including Ms Arroyo, who until recently had been the Philippines president before she ended in jail for election fraud and graft.
Hopefully there will be a large designer gilded bathtub somewhere in the vicinities for Jeana Napoles to swim in there too…