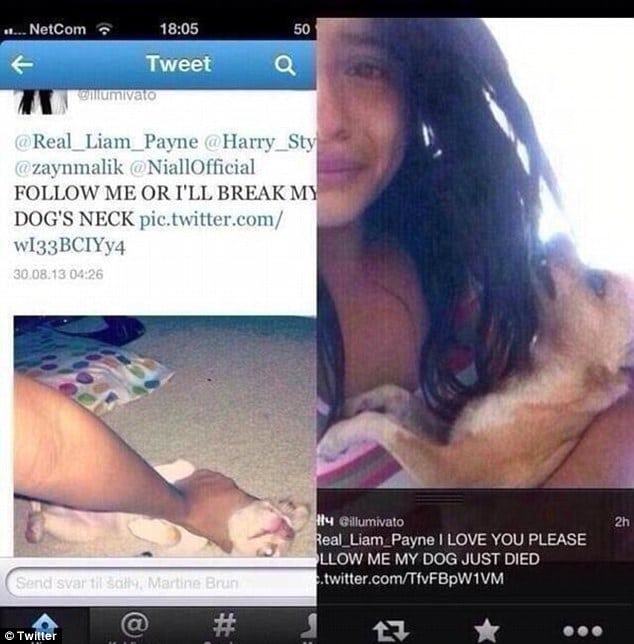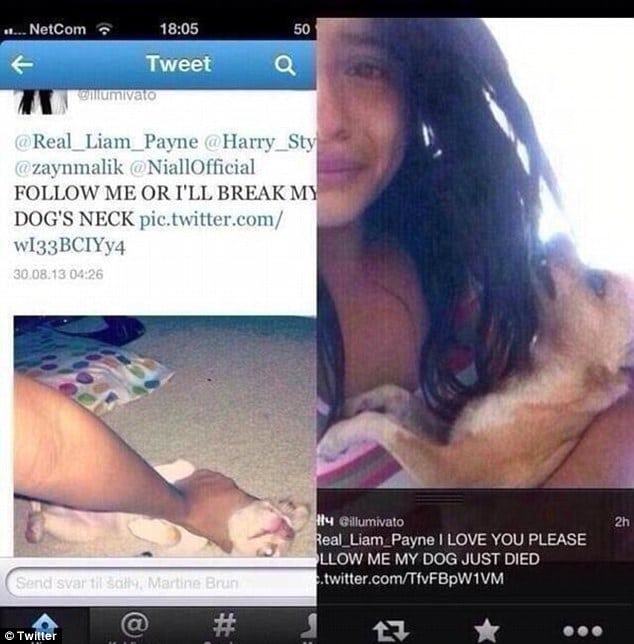 A One direction fan has gone on to purportedly break her pet dog, a Chihuahua's neck in a fit of rage after the British boy band failed to follow her requests to follow her on twitter.
At the time the woman had gone on to send the band a tweet from her @illumivato account two weeks ago saying 'Follow me or I'll break my dog's neck.'
The post came accompanied with a picture of someone pinning a dog to the ground by its throat.
With the band receiving copious amounts of daily tweets it is believed the 5 member band failed to pick up on the tweet until several days later the fan went on to write to band member Liam Payne.
Wrote the fan: 'I love you. Follow me. My dog has just died.'
The fan went on to add a picture purportedly showing her crying whilst cradled a dead dog.
Other images that were reportedly taken from the @illumivato page before it was suspended show animals in blenders and a small child tied up.
Each came with similar messages threatening to kill them if the boy band didn't follow her on Twitter.
The UK's dailymail goes on to tell that fans of the band, known as 'Directioners', branded her a 'psycho', with one setting up a petition on Change.org demanding she be imprisoned which now has around 3,000 signatures.
Reads a portion of the petition:
"There is a person on twitter by the name of @Illumivato who is posting pictures of her killing her dog by snapping its neck to get more followers. She has pictures of animals in blenders, a dog with guns up to its head, a picture of her strangling (what looks to be her mom), a young boy with duct tape tied around arms on the ground, (and the list continues) basically implying that if she does not get more followers she will kill all of these beings. I need this to be looked at by the police, government, and if nothing else twitter."
The case has since been widely reported by the Spanish and South American media, but the woman's name and location have not been revealed or located. Some have even openly wondered if it is all part of a ruse or a hoax, unable to fathom that such violence could actually be legitimate.
One direction who to date have more than 15 million twitter followers has chosen not to comment on the asserted incident. Can anyone guess why?