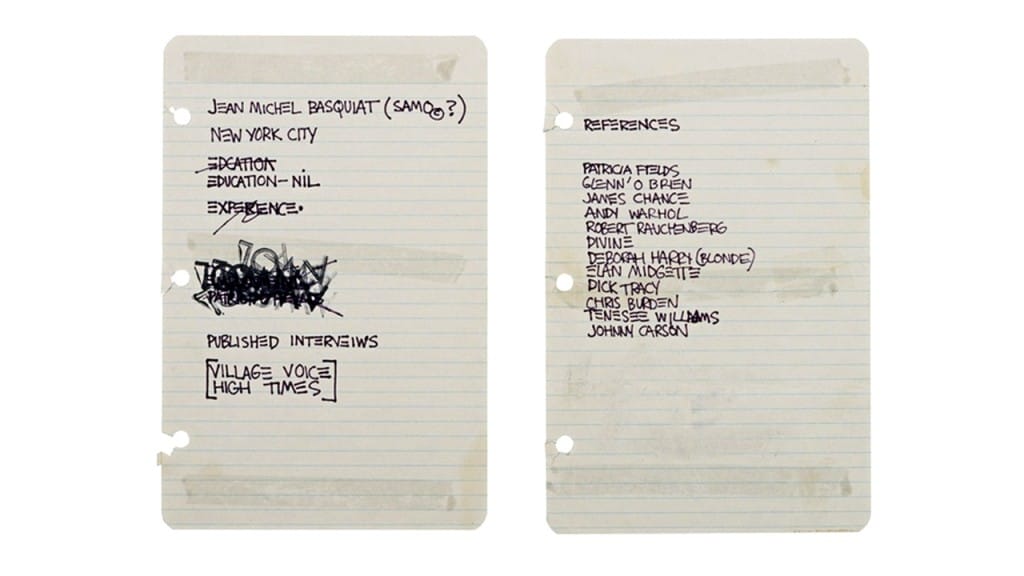 Making news this afternoon is the revelation that someone has gone and upped $50 000 to possess famed NYC artist, Jean Michel Basquiat's hand written resume.
The sale is said to have taken place via Sotheby's as part of their Basquiat-centric exhibition auction Man-Made, which ended last Sunday.
That said what really makes for the above resume is Basquiat's moxie and the way he irreverently goes about listing his accomplishments, he doesn't cause we pretty much already knew by then what Basquiat had accomplished (a fact not lost on the artist probably).
Then there's the cavalier way the artist scrawls out his education as nil and experience as none existent (which of course is a wicked inside joke).
But what had my tongue wagging is how the artist goes about casually listing his references, the way say you were making a shopping list for tonight's dinner.
Yeah I know, Andy Warhol, Johnny Carson and Divine would make it to the top of my resume too, but then again I'd probably wouldn't be brave enough to invest in a blunt thick black point pen to extol my virtues, unless of course I happened to be brilliant or not give a damn…