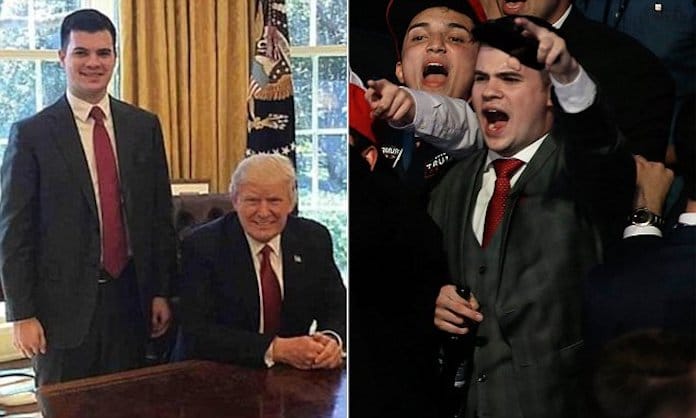 Taylor Weyeneth resume: How a recent college graduate and Trump campaign worker was able to fake his way in as the White House Deputy Drug Czar.
Also making his way to the tabloid la-la land is 24 year old recent college graduate, Taylor Weyeneth miraculously appointed to the top position of the White House drug policy office with new revelations that all is not what it as it appears.
A report via the Washington Post has told of securing the college grad's 'scanty resume', in the process unearthing a number of inconsistencies in the Trump's Deputy Drug Czar curriculum vitae, including but not limited by the fact that Weyeneth was fired from his last job due to his inability to show up to work.
Issues that perhaps might have led to the White House having a long hard think before having offered him the role of deputy chief of staff at the Office of National Drug Policy. According to the WP, our collective hero was was appointed about a year after receiving his undergraduate degree from St John's University in New York in 2016. 
Of note, Weyeneth's only prior professional experiences before coming on board as drug deputy czar included a position on the Trump 'I'm not surprised- are you?' campaign, which he took just after graduating, along with a legal assistant job at the New York Law firm, O'Dwyer & Bernstein, as an undergraduate. 
But it gets grimmer.
According to the Post, our rising political czar appears to have embellished some details while applying to the position in Trump's administration – claiming he spent more time at the law firm, that he was vice president of his college fraternity, along with claiming he had a Masters degree. 
It was also revealed that he was 'discharged' from O'Dwyer & Bernstien for failing to come to work. 
A partner at the firm, Brian O'Dwyer, told the Post, 'he just didn't show.' 
Since the revelation, Weyeneth has been reassigned to 'administrative work' instead of making policy decisions but still holds the deputy chief of staff title. 
And when it rains, it pours.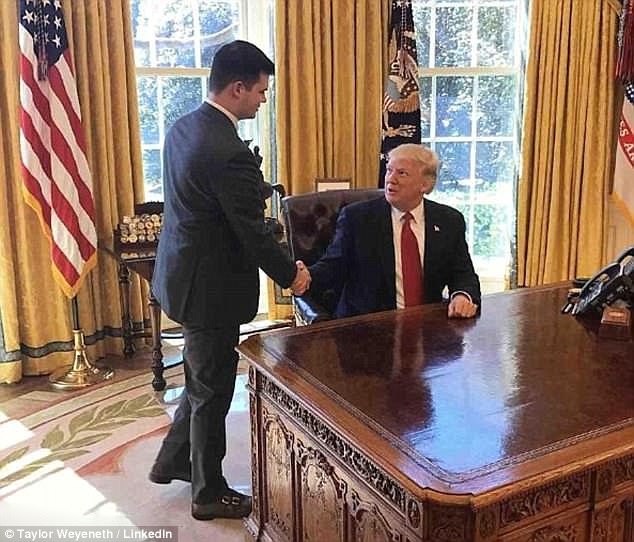 How Taylor Weyeneth's ruse came to be eventually undone….
While Weyeneth claim having a Masters of Political Science from Fordham's Center for Electoral Politics and Democracy, with officials at the school acknowledging he did enroll in the program, a spokesperson said he had yet to completed his degree yet.
The Office of National Drug Policy is looking for a new second-in-command, according to the Post. The Office has not yet released an official comment about the matter. 
Weyeneth's quick rise within the office was previously attributed to staff turnover and vacancies.   
The Post's expose came after Trump was called out by 10 Democratic senators who excoriated him for hiring Weyeneth in the first place and for his failure to tackle the opioid crisis in a timely manner. 
'You have claimed that the opioid epidemic is a top priority for your administration, but the personnel you have staffing these key agencies – and the lack of nominees to head them – is cause for deep concern,' the lawmakers wrote.
It wasn't immediately clear what formidable decisions Weyeneth may have made (if any) during his time in the highly noted job slot…
Lest anyone think @realDonaldTrump isn't serious about the opioid crisis, he just temporarily promoted Taylor Weyeneth to be deputy chief-of-staff of the anti-drug program. He is 24 with zero experience, and lied on 3 resumes that he has a Masters degree.https://t.co/DJX376f9Ev

— Robert Elisberg (@relisberg) January 15, 2018
How did Taylor Weyeneth, a 24-year-old w/accuracy issues surrounding his resume, end up as deputy CoS of the Office of Nat'l Drug Control Policy? His only professional experience after college & before becoming an appointee was working on Trump's campaign. https://t.co/KSj5m9Tpl8

— Citizens for Ethics (@CREWcrew) January 14, 2018