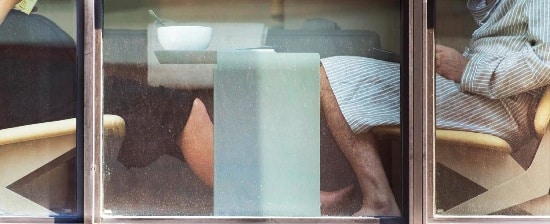 Manhattan photographer, Arne Svenson who secretly took pictures of his neighbors as they dwelled inside their apartments is fighting back against recent lawsuits against him by going on and turning the images into high end blow up prints at Chelsea's Julie Saul Gallery and selling them for as much as $7500.
The images taken from the photographer's own Tribeca apartment has gone on and infuriated those who are depicted without their consent. Upset with the photographer are Martha and Matthew Foster, parents of young children featured in two of his photographs.
The Fosters go on to tell the pictures raise concerns about the safety of their children as well as fears that they 'must keep their shades drawn at all hours of the day in order to avoid telephoto photography by a neighbor.' Arne Svenson for his part has dismissed claims that he transgressed his subject's privacy, arguing instead that he just chose simply chose to take snaps available to him from his apartment window.
To date exhibit has triggered controversy over  First Amendment rights and just how much privacy city dwellers can expect.
Keeping with his position that he has done nothing wrong, Svenson's attorney recently filed a motion calling for the New York county court to throw out the Fosters' complaint. The motion argues that the pictures are not illegal and are protected under an artist's freedom of expression under First Amendment rights. Svenson has gone on to argue furthermore the images are the same sights that anyone walking along the street could have seen as well at any given moment. A compelling line of logic assuming that Svenson also happens to live on the ground floor which one doubts.
Tell exhibition notes: 'For my subjects, there is no question of privacy… The neighbors don't know they are being photographed; I carefully shoot from the shadows of my home into theirs.'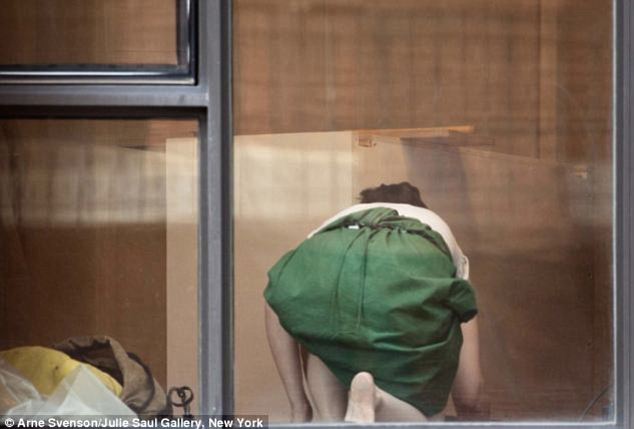 Yet that is not the way the Fosters are necessarily seeing things, who have to date gone on to argue that their children's' faces are 'clearly recognizable,' which could endanger their safety by attracting the attention of 'undesirable and potentially dangerous people.'
Counters Svenson: 'Both photographs capture children at play and the innocence of childhood, nothing more revealing than you might see in a neighborhood park.'
He goes on to add that the faces of the parents are not revealed, whilst the faces of the children are obscured and the subjects are in plain view.
Reiterates Svenson: 'Plaintiffs should not be permitted to use the Court to attempt to restrict artistic expressions that they disagree with.'
Tells the plaintiff's brief: The plaintiffs say they are 'frightened and angered' by the 'utter disregard for their privacy and the privacy of their children' and the 'seclusion and solitude of their homes.'
Continues the brief:  '... that Svenson's conduct is 'so out of keeping with the standards of morality in the community as to evince an intentional or reckless disregard of its likelihood to cause severe emotional distress to the Fosters.'
Interestingly, Julie Saul, the gallery owner and director, has gone on to reiterate that the the reaction to the exhibition was a 'huge surprise' and a 'tempest in a teapot.' Which of course is Ms Saul's way of saying who doesn't mind a smidgen of controversy, press and art work that's selling briskly at $7500 a pop…
Reflected one commentator on the web: He may have a right to take pictures, but to publish the pictures the "subjects" have rights too. He should to have their permission to use their images in his photos.