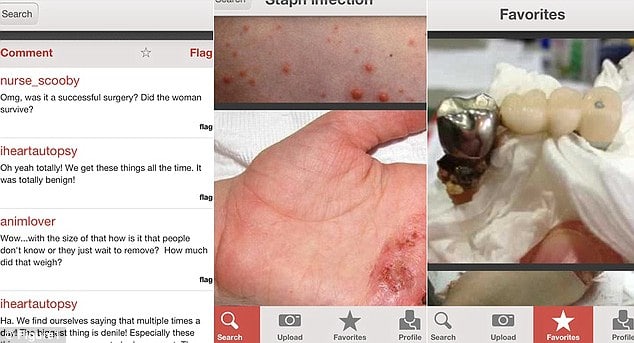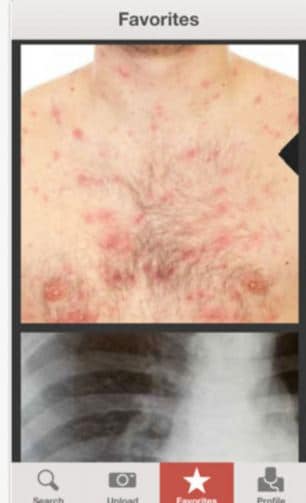 Billed as the instagram for doctors, a new phone sharing app called Figure1 now allows medical professionals to share gruesome pictures of diseases and injuries with colleagues.
Despite its potential for shock value, co-founder and  a Toronto-based critical-care specialist Dr. Josh Landy, a Toronto-based critical-care specialist, said the network was not designed for voyeurs but to provide time-stretched health workers with an additional information resource.
Telling the the National Post:  'An image with a story goes a long way.'
As a kind of Instagram for medicine, the app lets practitioners quickly upload unusual and informative images for the edification of colleagues near and far.
It may lack the factual detail of some other medical apps and web sites, but gives overworked professionals a simple and surprisingly rich resource, tells Dr Josh Landy.
"An image with a story goes a long way," he said. "There is no question in my mind, educating doctors saves lives…. Having someone who has easier, more efficient access to information, who learns something more about a patient they are currently seeing, is going to improve the care of that patient."
The developers of Figure1,  say they have also taken pains to protect the confidentiality of patients whose diseased and injured body parts appear online. A consent form is embedded in the app, as well as software that detects faces and automatically blacks them out.
Since been launched more than two weeks ago hundreds of pictures have been uploaded with images ranging from amputations, infections, cuts, cataracts, rashes, x-rays and other diagnostic scans.
Interestingly the app is not just for medical professionals – anyone can download it which can only mean going forward don't be surprised to start receiving unique images of the human body in depraved states of form, including this one below: