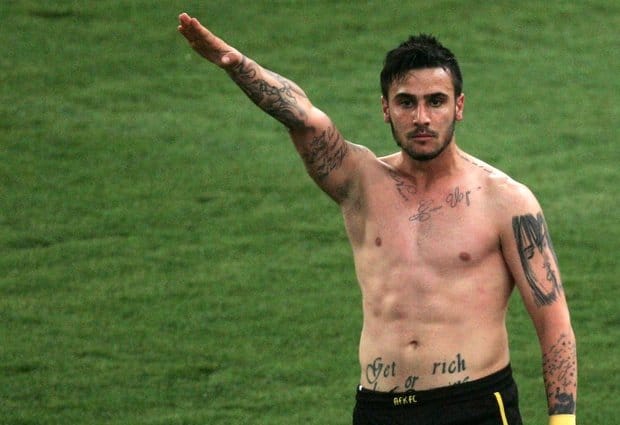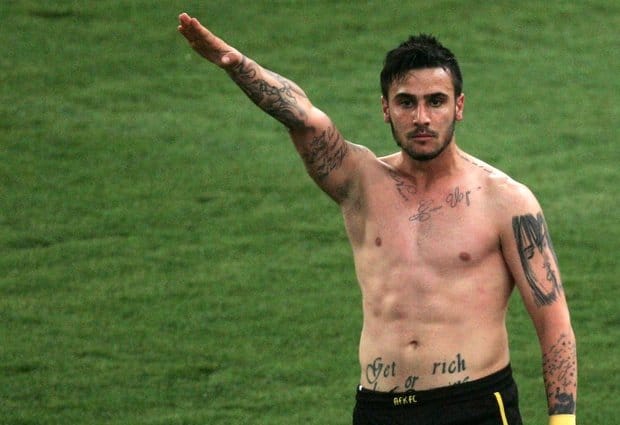 AEK Athens midfielder 20 year old Giorgos Katidis has found himself embroiled in scandal after he took to the field and making what officials claim to be a Nazi salute after scoring a goal this past Saturday.
The rising star is said to have made the gesture in celebrating his winning goal in a 2-1 win over a competing team during national Super Leagues. Nonetheless many were horrified by the gesture the former captain of Greece's under 19 team made.
Offered Katidis who has since asked to be dropped from AEK's first team and who has now been banned from the national team for life:
"I would like to confess that I am totally unacceptable and I feel terrible for those I upset with the stupidity of my act," Katidis said in a statement.
"I made the mistake so I will be the one to pay for it, AEK is not responsible. So that is why I have decided to put myself out of the team because I have now realised how much I have offended the history of the club.
"Also, I understand fully the reasons for the decision made by the Greek Football Federation to which I owe a huge apology as it has helped me to get where I am in the professional game."
Katidis went on to reiterate that he is not a fascist or a racist. Something that many might find alarming given the rising popularity in Greece of right wing political organizations such as the Golden Dawn political party that have harbored their attention on foreigners and insisted they leave Greece. The political strife comes as Greece endures another year of deep economic peril after it found itself bankrupt and at the mercy of capital markets.
Went on to say the player:
"Unfortunately I cannot take the clock back but I want to clarify that I am not a fascist or neo-Nazi or racist. I have a step brother from Puerto Rico and all my family are from the Black Sea and have experienced racism in the worst ways," he said.
"There is no reason to look for excuses. I was completely wrong and I will pay for it with a lot of pain because despite being only 20 years old my career is now at risk.
"I sincerely apologize to my teammates and everyone involved with the club that I have insulted in not knowing exactly what I had done in my celebration. Nonetheless, the fact that I did not know what I was doing is no excuse."
The globeandmail goes on to note that Katidis has been heavily criticised by political parties and fans on Twitter and Facebook following the incident at the Athens Olympic Stadium. Sunday marks the 70th anniversary of Greek Jew deportations in Nazi concentration camps in the Second World War.
At the time of the incident, Katidis denied he gave a Nazi salute, arguing that instead he was merely pointing at team mate Michalis Pavlis in the stands in dedicating his winning goal as Pavlis struggles with ongoing health problems.
Told AEK's German coach Ewald Lienen:
"He is a young kid who does not have any political ideas. He most likely saw such a salute on the Internet or somewhere else and did it without knowing what it means."
Something unfortunately many don't necessarily believe in lieu of the current political climate which may have more to say about Greece's chagrined character than the player itself.