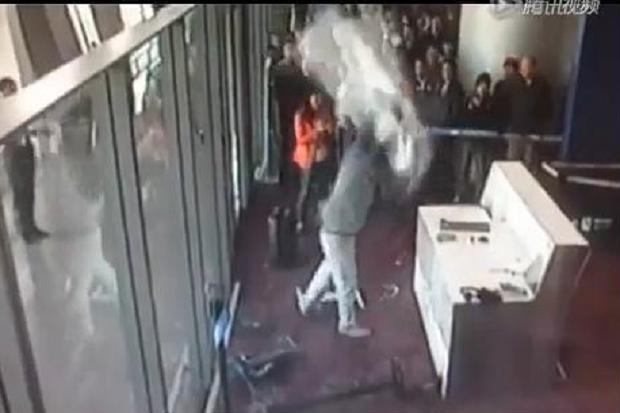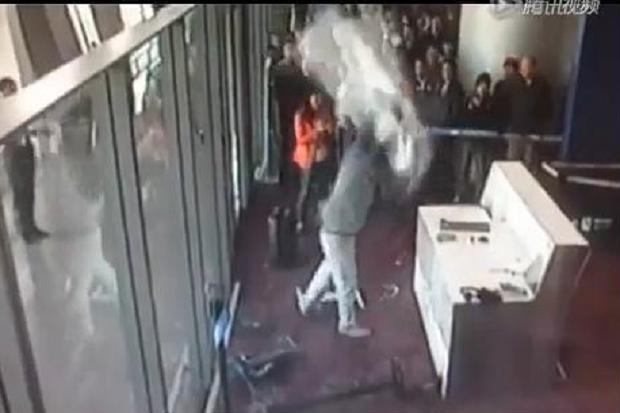 Video of Chinese Communist official Yan Linkun meltdown with sound.
This is what you can expect if someone high up in the Chinese People's Political Consultative Committee doesn't get their way. Now!
A high ranking member of China's ruling body seems to have lost their mojo in the most spectacular way after missing their flight not once but twice, which led to them having an amazing tantrum session on the thankless boarding desk.
Explains gawker: since identified as Yan Linkun of Shizong county in Yunnan Province, arrived with his wife and two kids at Changshui airport with plenty of time, but a long breakfast caused them to miss their flight.
The airline staffers were very accommodating, and managed to put the family on another flight leaving later that day.
However, they ended up missing that flight as well after Yan apparently failed to hear flight's boarding call.
Of course Yan decided he ought to be allowed to board the flight anyway but that shit didn't go down too well with the flight operators which in turn led to Yan having a complete meltdown (I know the video is delicious), tossing around computer equipment, and attempting to shatter the door to the boarding gate with a sign. Yes very very naughty.
In fact so naughty Yan was eventually forced to save face after the video made its rounds and Yan who is also the vice chairman of the Guangdong Yunnan Mining Company, was forced to release a statement saying he was sorry for having lost his temper.
Interestingly Yan explained that he was merely trying to get his kids to their school in Shenzhen.
"I failed to be a qualified political adviser as well as a good father," he said in his statement. "My irrational actions and rudeness have caused some losses to the airport as well as bad effects to the public, so I sincerely apologize to the airport and public. I am willing to compensate."
Kids tell me you don't want to vouch a couple of dollars for Yan to make his way over to Disneyland to soothe those battered nerves?
Since the incident, local press goes on to tell that Yan, has been suspended from Yunnan Mining Industry Company, and a police investigation has been launched. He is also expected to be disciplined by the Party, though the exact nature of the discipline was not disclosed. Which might just be another way of saying, no discipline of course.
Time goes on to tell how users of social networking site Sina Weibo were not impressed, as the Times of London reports, noting that Chinese are increasingly disgusted by the behavior of their politicians — especially members of the CPPCC, who are seen as having gained their positions through wealth and business connections. As one user posted:
"Nowadays in some places electing CPPCC members, the only standard is money.

"Their inner quality has never been considered, which is very dangerous."
Isn't it time you lost your nerve on a bunch of peons who should have had the temerity to understand that life is so unfair even for higher ups like you in the world…?
Reflected one commentator on the web: This scene is too funny. Airport security stands by, hands politely behind their backs as he goes about his tirade. The two sons stand with their heads down, "There goes Dad again…" On-lookers add their thoughts, with wild gesturing included. In all, it's even better without the sound as we can now create our own dialogue!