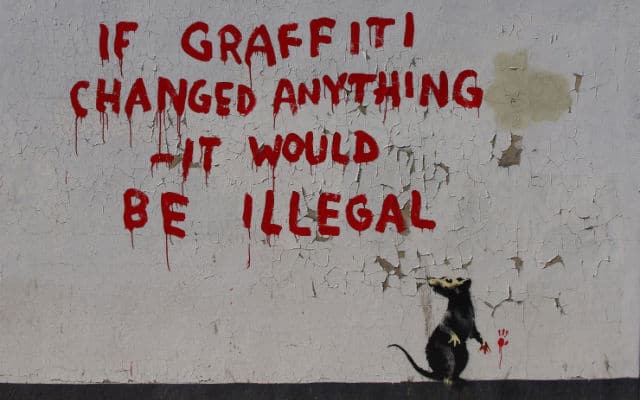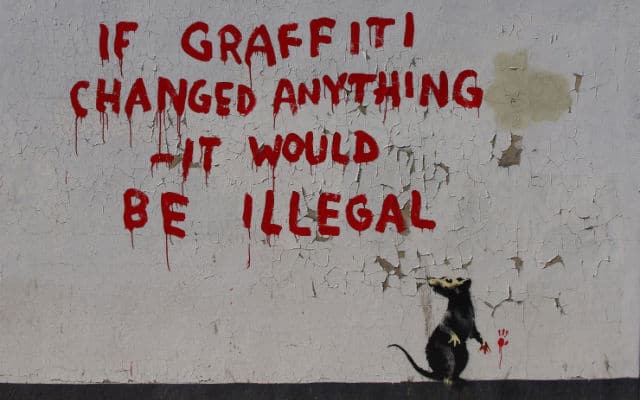 The new oxymoron of street art: Vans ads or vandalism?
E-Bay shuts down auction for Banksy's Identity.
The false arrest that even Banksy could be proud of.
Banksy has remained elusive in his quest to bring meaning, harmony and of course vandalism to the world which to date has only vexed authorities. Yet that almost changed last night when reports of his arrest began hitting the media pipe line. Except even that too proved to be false and wishful thinking too.
Read a vague press release last night: Paul William Horner, 39, of Bristol, England, was arrested in London late last night.
Police arrested Horner, better known as Banksy, with a group of 4 other men at around 2am after they had just painted a new piece. Police then followed them back to what is believed to be one of Banksy's art studios, where they made the arrest. A spokesperson for the London Police made the following statement
So it was all just a scam then?
gawker: People should have maybe smelled a scam when news of Banksy's arrest came via a press release posted on PRLOG.org, a gratis "online press release distribution and press release submission service." When's the last time police broke news of an arrest via a press release? And even if they were going to do that, why use some janky PR website instead of sending it straight to TMZ or, if we want to be very British about it, the Daily Mail?
Yes woe that Banksy has been relegated to the tabloid beat. Because  tawdry, slimy and sensational is what gives off so much heat.
Tells gawker again: I emailed the proprietors of IYWIB to get confirmation that their press release was, in fact, total bullshit. Ten minutes after I sent it, the Banksy story disappeared from PRLOG. The smart money says Banksy is probably not in jail, and this was all a big deception even the artist himself could love.
The moral of the lesson? Instead of street walls being mashed on this time the media got mashed on. By a troll no less. Not that the media isn't it's own dizzy troll mashing on the surface of the world's consciousness…