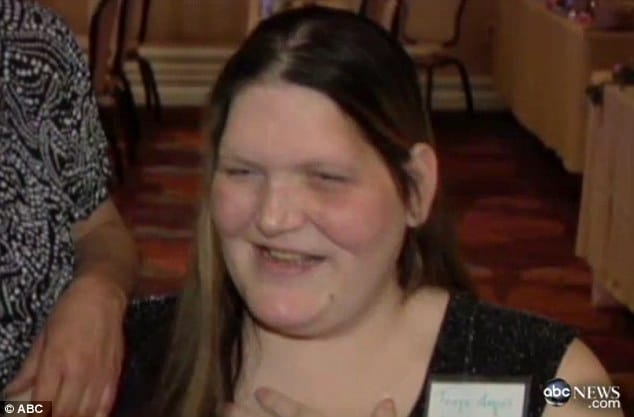 Tanya Angus at the age of 34 today passed away, the result of a condition that caused her to inexplicably continue growing and in the end exact insurmountable pressure on her heart.
The condition known as acromegaly purportedly set in when she was 21 when at the time she was 5ft' 8" tall and weighed 130 pounds. It wasn't long though as a tumor became wrapped around her pituitary gland which caused massive amounts of growth hormone to be released in her body that she shot up in height and weight. At her worst she had approached a height of nearly 7 ft and weighed more than 400 pounds. By then she had begun wheel chair bound.
Reports abc: As her body grew larger, so did her heart, lungs, joints and other parts of her body. Soon she was being crushed by her own weight, and needed constant care from family and friends.
Her worsening condition led her to being fired at Walmart where she worked as a supervisor in Michigan and then being dumped by her boyfriend after his family accused her of resembling that of a man.
Nevertheless Tanya Angus remained adamant about trying to find a cure to her condition in hopes of one day once again having a normal life.
Reports the UK' dailymail: In August last year, it seemed like Tanya and her family had finally seen a breakthrough, when a blood test revealed that her growth hormone levels had fallen at last.
Tanya's mother Karen Strutynski said at the time: 'For the first time ever, Tanya's blood level for her disease is in the normal range.
'It gives us renewed hope and will give other people renewed hope.'
"She was perfectly normal, but by age 22 she had grown three inches," said her mother. "Nobody knew what was going on."
That said the good news was short-lived. Tanya's Insulin-like Growth Factor levels, which had fallen from 3,000 at the worst of her condition to just 283, had started to creep back up into the 500's. The normal range for a healthy person is around 250.
Read a  notice on Tanya's website: 'It is with deep sorrow that we announce the passing on of our beloved Tanya Angus at 12.25am on January 14, 2013, due to her heart and TIA. RIP dear one'
Transient Ischemic Attack (TIA) is a type of mini-stroke, caused when the blood flow to the brain stops for a period of time.
Tanya had suffered a number of TIAs in recent years.
It's understood over the course of the last 12 years she  underwent three operations to attempt to remove her tumour, but several different surgeons were unable to reach part of the growth, as it was wrapped around her inner carotid artery.
Her heart, lungs and the joints of her limbs continued to grow as she gained weight and height, causing huge strain on her body.
Reflected Tanya recently: 'Without hope you don't have anything. I hope they can stop me growing one day.'
Acromegaly or gigantism is a rare pituitary disorder that causes the body to produce too much growth hormone. It affects about 20,000 Americans.