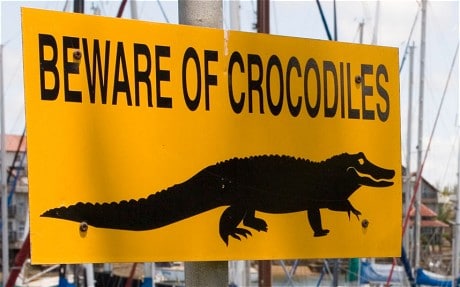 Kids in the event you're considering traipsing off to South Africa bear in mind you might be putting yourself in the remote danger of being eaten (or at the least scared shitless by the presence of) a remote crocodile or two on the loose.
mirror.co.uk: Around 15,000 crocodiles have escaped from a farm in South Africa following heavy rain and floods.
The reptiles broke free from the Rakwena crocodile farm, in Limpopo, when the owners were forced to open the gates to prevent a storm surge.
Thousands have been recaptured but at least half are still on the loose, scattered far and wide, the Beeld newpaper reported.
I know kids, I'm licking my chops too. Nothing like a loose crocodile to have to navigate whilst hobnobbing amongst chic South Africans.
Which raises the question what do I do in the unlikely event I come across one of these hawt bixches?
Zane Langman, son-in-law of the farm owner,Johan Boshoff also told the newspaper: "We've been recapturing them as and when the local farmers phone us to tell us there are crocodiles on their property.
The surrounding province of Limpopo has been hit by serious floods which have killed 10 people and left many more homeless.
The floods have also savaged neighbouring Mozambique, were tens of thousands of people are being evacuated from their homes.
Which is a code word for evacuate as fast as you can. Meanwhile Animal safety experts warned people to stay indoors and stay away from the crocodiles. No shit.