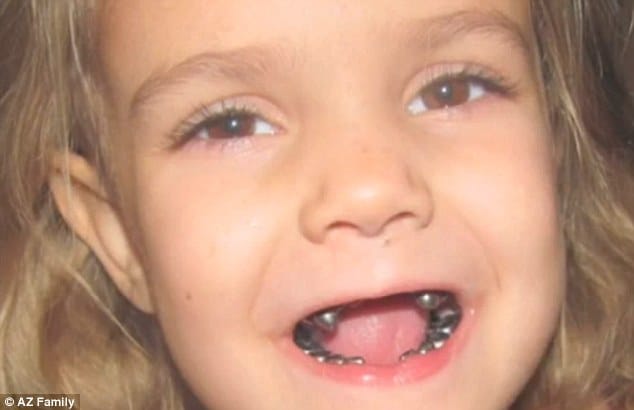 A 4 year old girl has been left with stainless steel crowns on every single one of her teeth after she made a recent trip to the dentist.
Savannah White had gone in for a routine procedure to treat four cavities but her mother who stayed with her daughter until she was sedated in the dentist's office room returned with the shock of her life after returning from the waiting room.
The ordeal left the young girl resembling the appearance of James Bond villain Jaws as played by actor Richard Kiel.
Mrs White told AZFamily: 'On a daily basis she says, "Mommy, I don't like my teeth. I don't like my teeth." And it's really kind of hard to hear every single day.'
The local TV station asked Dr Richard Chaet, a pediatric dentist for 30 years who has written guidelines for his peers across the U.S, to examine photographs of the little girl's mouth.
Dr Chaet said he was amazed by the number of caps on the child's teeth but on closer inspection said that the dental work had been necessary due to the level of deterioration.
Since the ordeal the girl has had her teeth capped with white veneers so that she could no longer be self conscious of how she looked.
Reflected Dr Chaet:
Chaet said two things apparently happened here. First, he said there needed to be better communication between the dentist and White. Chaet said the dentist might have done a better job at explaining the situation and White could have asked more questions. Chaet said parents should always ask several questions before any procedure is performed to make sure they fully understand.
Chaet also said this is a good reminder to take your child to the dentist as early as their first or second birthday so proper dental care can begin. Appointments early in a child's life not only benefits kids, but it allows dentists time to discuss sugary drinks like juices that parents frequently put in bottles and use over time. 
The incident has gone on to raise questions as to how the mother allowed her daughter to have degenerated orally to the extent she needed all her teeth to be treated, never mind the initial treating dentist who opted to use steel crowns.