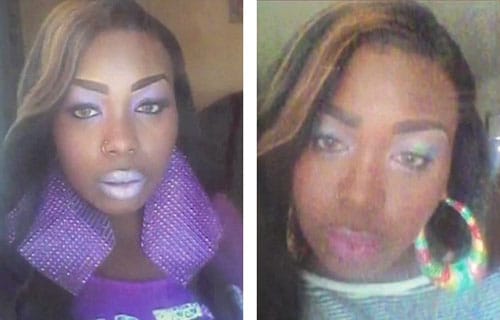 Why didn't he just fire into the wheel or in the air?
A 27 year old mother of two, Shelly Frey was fatally shot by a Walmart security guard after he suspected her  and two other accomplices of shoplifting after they failed to stop after repeated calls to do so after attempting to drive off, it has been argued in his general direction.
The shooting which took place at Houston, Texas originated after the Walmart security guard, Louis Campbell, a 26 year veteran of the local sheriff's office confronted Frey and her accomplices, Tisa Andrews and Yolanda Craig.
Rather than answer questions, the trio got into their car and began to speed off, with the off duty deputies sheriff concerned (his words) that the driver now had intentions of running him over as the car  sped in his general direction. That is when he pulled his trigger, critically injuring Frey, one of the passengers in the neck.
Of note during the suspected robbery it was later disclosed that there were Frey's two children were sitting in the back of the car at the time of the shooting.
Since the death of Frey, the girl's mother, Sharon Wilkerson has demanded to know why the girl needed to be shot in the first place?
Said the mother: <em>'Why couldn't you just shoot the tire, shoot the window?. 'Was it that serious?' </em>
The shooting has even led to some wondering if it was racially motivated? Or to put it another way, had the women involved not been black, would Campbell have responded in the same way? And why even for that matter was there a policy to shoot to kill? Was Campbell's life really in imminent danger, or was his decision to shoot informed by his and the pervasive negative attitude towards colored people in the community?
Hardly delicate talking material is the fact that Walmart also has a contentious history of its treatment and regard of black shoppers, which may or may not have informed Campbell's choice to shoot in the first place.
<div>
Nonetheless what makes Frey's death even more ironical is the fact that she wasn't even supposed to be in the store that evening after earlier in the year pleading guilty to stealing shirts and a package of meat from another Walmart with part of her plea arrangement ratifying that she agree to never enter Walmart stores ever again.
For its part Walmart have offered the following statement: 'This is a tragic situation and we recognize this is a difficult time for all parties involved. We're committed to working with law enforcement and providing any information we have as they determine the facts of the case. Because this is an active investigation, any specific details of the incident should come from law enforcement.
'We hire off duty officers to provide security to some of our stores. While we have policies in place for our associates to disengage from situations that might put them or others in harm's way, off-duty officers working at a WM store are authorized to act in accordance with their department's code of conduct.'
At present it is understood that the Harris County Sheriff's Homicide Unit, Office of the Inspector General and the Harris County District Attorney's Office will investigate this incident. It is likely the case will be turned over to a grand jury.
And then there was this thoughtful comment from the web that caught my attention as well…
I think you all missed the question. The question is was shooting this woman justified? You all want to go on and on about her character for stealing and bringing her (or whoevers) children along to steal. Her character has nothing to do with it. There seems to be no value to a human life anymore. "She should not have been stealing." Does that mean she deserved to die? And a lot of you are saying that he probably did not mean to shoot her. If that is the case he could have shot a bystander or one of the children. It seems like we have no need for judge and jury anymore because these punishments are being executed at the scene of the crime.
</div>
</div>