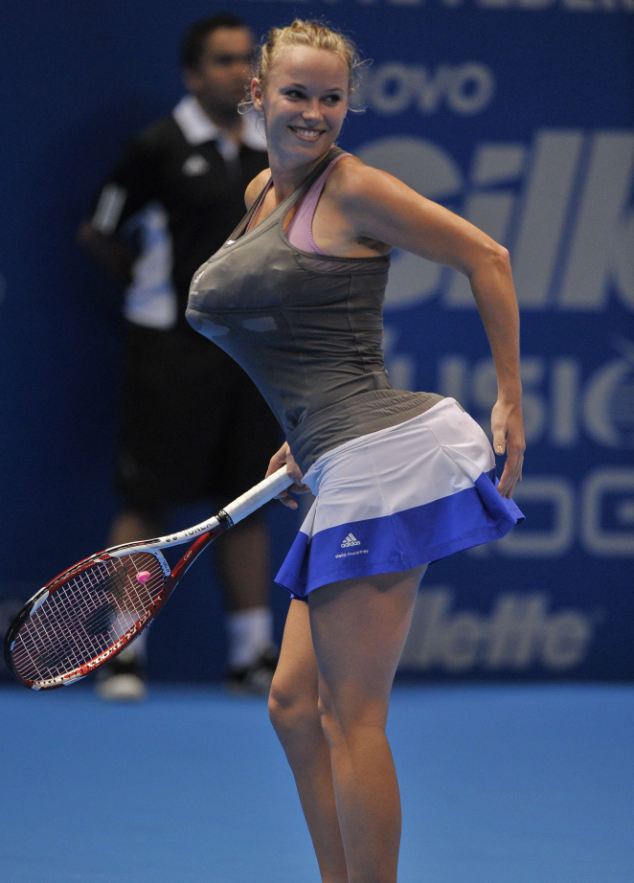 Twenty two year old tennis pro Caroline Wozniacki has found herself in a hotbed of controversy after stuffing her pants and brasserie during a exhibit game in an attempt to replicate curvaceous grand slam champion, Serena Williams.
Although many court attendees laughed at the gesture after the young tennis player stuffed herself with towels, some attendees were quite appalled wondering whether Ms Wozniacki's antics were racially motivated?
Responded irate bloggers on tumblr: 'This isn't "harmless fun" as one article described it. its racist. out and outright racism. mocking and making fun of the bodies of black women for a laugh? real funny, stupid white girl. real real funny.'
Then there was this comment as well: 'It may have been done in "jest," but I love how people can can turn a black woman's body and sexuality into a caricature. However, we should not have the autonomy to celebrate any successes of our own.'
Feminsiting.com reacting to the fracas offered the following: 'Given the history and current-day context of racialized standards of beauty, and the hypersexualization of people of color, when a white woman makes fun of a black women's body, especially in a way that hypersexualizes her and draws on the stereotype of black women's big butts, it's racist.'
But is it really racist? Can one really argue just because one woman decides to send up a famous tennis peer that that action in and of itself now constitutes racism? Would claims of racism be necessarily made for instance had Ms Wozniacki been say black herself? Or can we only infer her court side antics to be racist simply because a 'white' woman chose to lampoon another peer who just so happens to be black? Would any of this be making headlines for instance had Serena Williams be say white who happened to still have a curvaceous figure or are we simply failing to admit that yes, most black females do in fact have more denser and curvaceous bodies, but to reference that, does that necessarily make someone racist?
Interestingly Ms Wozniacki mentioned during a press conference after the game that she was performing an impression of her friend and fellow tennis player Serena Williams.
Said Ms Wozniacki: 'I really love the crowd here, they're open and they have a lot of fun.'
This was not the first time Wozniacki imitated the American icon – she also copied her last year as well.
Me thinks it's just a slow media day….
via dailymail.co.uk