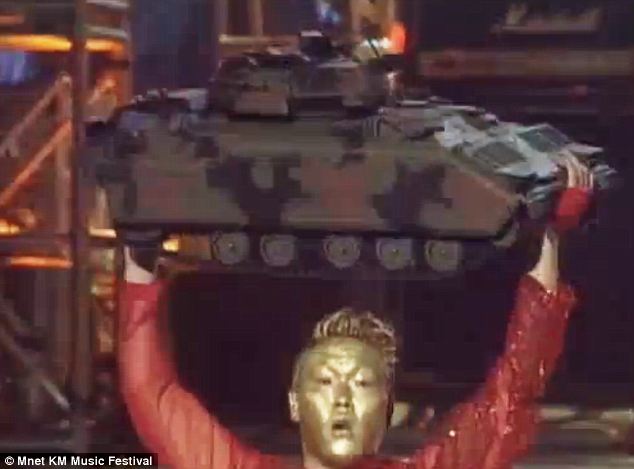 How did 'Gangnam style' become the most loaded youtube video at 805 million views?
The President was being urged to boycott the 'Christmas in Washington' show, and have 34-year-old South Korean pop star Gangnam Style' rapper PSY uninvited after it was revealed he once sang about slowly killing American troops and their families, however despite heated controversy the rapper will perform as planned and President Barack Obama and First Lady Michelle Obama will be in attendance.
The rap sensation's graphic 2004 anti-American song sparked an angry petition on the White House website urging organizers of the event to remove him from the list of performers, the petition however was removed shortly after administrators stated that 'The petition… has been removed from the site under our Moderation Policy because it is in violation of our Terms of Participation,"
PSY is under fire for his actions during an anti-American protest in Seoul in 2004, in which he smashed a model American tank live on stage. He first held the tank above his head, before throwing it to the floor and violently breaking it up with a microphone stand.
The demonstration happened during strong anti-American sentiment in the country after a 50-ton U.S. armored vehicle killed two 14-year-old South Korean girls, Shim Mi-seon and Shin Hyo-sun, on their way to a birthday party, and the responsible parties, Sergeants Mark Walker and Fernando Nino, were found not guilty.
Then, two years later, a protest concert was held in Seoul after the killing of Kim Sun-il, a South Korean missionary and translator, who was beheaded by militants in Iraq after his country sent 3,000 troops to the region.
Again in this 2004 anti-war event, a group of musicians, including Psy, performed Dear American, a protest song written by Korean rock band N.E.X.T, where he sang about killing and torturing Americans and their children.
As imagined, Americans are angry with PSY and his lyrics but the question is why ? Despite his lyrics, PSY was performing at an anti-war event, much like the ones many americans organize and take part in, discouraging violence and war. The real issue here is the egotism of the United States that cannot stand being insulted without whipping out their pens and microphones to write a letter and shout 'Anti-American' at whoever dares say a bad word about the 'best country in the world.'
For a nation founded on freedom is it not unethical to censor someones performance because they at one point or another disagreed with the way the United States handled things? In the years following September 11th, there wasn't a country in the world not protesting anti-war and, perhaps, Anti-American.  If we prevent all of their artists from performing we will be stuck with Justin Beiber and Ke$ha performing at every show…
Psy on Friday apologized, saying:  'As a proud South Korean who was educated in the United States and lived there for a very significant part of my life, I understand the sacrifices American servicemen and women have made to protect freedom and democracy in my country and around the world.
'The song I was featured in – from eight years ago – was part of a deeply emotional reaction to the war in Iraq and the killing of two innocent Korean civilians that was part of the overall antiwar sentiment shared by others around the world at that time,' Psy's statement read.
'While I'm grateful for the freedom to express one's self I've learned there are limits to what language is appropriate and I'm deeply sorry for how these lyrics could be interpreted. '