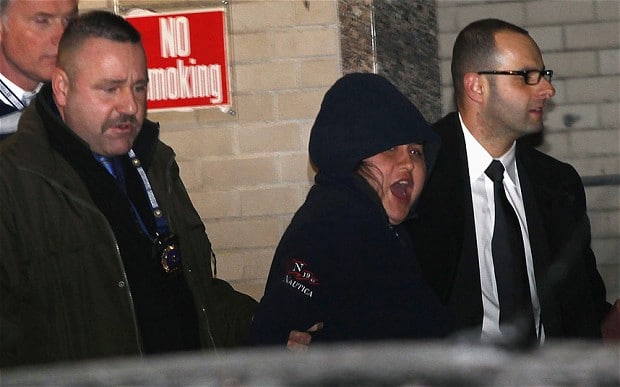 Erica Menendez, Queens subway murder pusher is charged with hate crime. Hates muslims!
Busted! Queens subway murder pusher arrested. Homeless mad woman…
Sunando Sen identified as man pushed to his death on Queens subway. Had just opened his own business.
Video: Queens subway murder. Man pushed to his death by mystery woman.
From bad to worse…
It is starting to become apparent that Erica Menendez is pathetically deranged as she continuously laughed during her court arraignment forcing the president judge Gia Morris to issue a warning to her defense lawyer.
Regaled the judge: "You're going to have to have your client stop laughing." 
The judge went on to demand that Menendez undertake a psychological evaluation after it was disclosed during the arraignment that she suffers from a possible bi polar disability.
Told Menendez to police during interviews: "I pushed a Muslim off the train tracks because I hate Hindus and Muslims ever since 2001 when they put down the twin towers I've been beating them up."
Menendez went on to implicate herself when she said that she believed her victim, Sen Sunando to be a muslim or a Hindu which she said made him fair game for retribution.
Went on to say Queens District Attorney Richard Brown:
"The defendant is accused of committing what is every subway commuter's worst nightmare,"
He went on to add the following:
Mr. Sen "was allegedly shoved from behind and had no chance to defend himself. Beyond that, the hateful remarks allegedly made by the defendant and which precipitated the defendant's actions should never be tolerated by a civilized society."
Mr. Brown said he had no information on the defendant's criminal or mental history.
"It will be up to the court to determine if she is fit to stand trial," he said.
Angel Luis Santiago, who used to work at the Queens building where Menendez's mother and stepfather live, said he was shocked by her arrest.
"It surprised me what she did," he said. "She never acted that way."
Menendez's next court appearance is scheduled for Jan. 14.
via pjstar