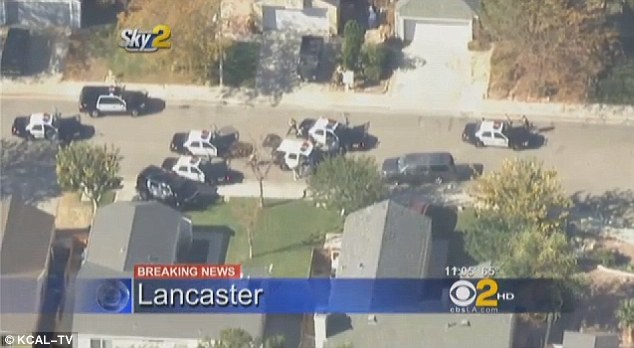 Welcome to the best kind of entertainment money can buy…
In Ancient Rome, the locals would gather to watch barbarians forced to fight for their lives against lions. That said nothing much has changed thousands of years later as millions sat around their tv yesterday watching with anticipation (it's called entertainment and hardly passes for news) as a criminal felon was being pursued by authorities. Unlike most car chases this one proved to be a resounding success with the suspect giving cops a real run for their money who by now were bamboozled whilst you kept filling up on your soda pop. Eventually though it all came to a head when the felon cornered got out of his car and then appearing to resist demands to surrender was killed by a tremendous volley of gunfire by officers.
The incident began when the felon, a bank robbery suspect took officers for a long chase after it was reported a suspect had just robbed a downtown Los Angeles Bank of America branch circa 9.15 am. From there the chase proceeded onto the Antelope Valley are of the Mojave Desert and along the way a spike strip flattened one of the suspect's front tires, which led to the suspect exiting the highway into the desert city of Lancaster before being cornered at a cul de sac.
Ordered to get out the suspect did so even throwing mounds of money onto the street but after being repeatedly told to show his hands authorities began shooting at the man as it was claimed that it appeared as he had fired at deputies.
The on screen live death once again raises concerns as to what passes for news and entertainment and why media outlets continue to show such diabolical change (yes people can't get enough of them and there's money to be made) and why the moral outrage such programs have stirred why such programs continue to exist.
But in case you're confused and upset as to why such programs still exist and bring in the big money and what this all suggests about ethical and moral questions I've copied and pasted a variety of reader comments from the web that may or may not illuminate what is at stake.Have a think….
Video: Live car chase suicide leaves Fox presenter freaking out.
Most popular TV shows are ones that have this kind of violence. People want to see it, here is the real stuff and they love it that's where the ratings are. Why watch made up fake crap when you got the real. Televise executions and it will attracted HUGE ratings. Pay per view !
This is the epitome of job satisfaction for the cops. The killing of a human being. When they check the citizen's gun, they will find it has not been fired. This will appear as a small article in the back pages of the newspaper, long after the official word that 'the suspect opened fire on the officers first'.
The fault was not with the cops dealing with a dangerous criminal firing on people, but the fault was with the tv crew/chanel who thought it was entertaining tv and showed it live.
FOX News airs a police chase that ends in a criminal killing himself — PUBLIC OUTRAGE. 
KTLA airs a police chase that ends with police killing suspect after he fired at them — PUBLIC JOY.
The word for today is DOUBLE STANDARD.