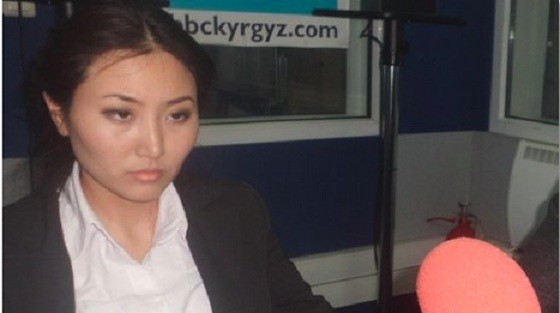 A prominent Kyrgyzstan entertainment TV reporter, Nazira Aytbekova is seeking to bring criminal charges of kidnapping against 2 newspaper reporters who abducted and threatened to kill her as a practical joke for their newspaper, Super-Info.
The incident which left Aytbekova 'shaken and humiliated' has led to the two reporters  involved who have since offered contrition sacked.
Reports the bbc: Ms Aytbekova said that her abductors blindfolded her on Tuesday near the capital Bishkek and forced her to strip to her underwear while holding a gun to her head.
"They took off the sack from my head and said: 'Sing!' I refused. They told me to dance and somebody was standing behind me and constantly poked the gun at my head."
Ms Aytbekova says her ordeal got even worse when the men threatened to kill her.
"They said to me: 'OK, say your last words. And then we'll shoot you.'"
After forcing her to say her last words and recording everything on there cell phones, the reporters admitted it was a joke.
Hairy stuff. Then again this is the Caucasus region and sadly maybe this stuff is just a walk around the park for some even if it amounts to terrorism to most. Of course one can't help think deep down even if this were just meant to be a joke there was some degree of embedded malice towards Ms Aytbekova in the first place…
The newspaper outlet, Super-Info to date has chosen not to publish the shot video footage on its website while its vice president,  vice president, Aisulu Alimbekova offered the following:
"Our editorial team would never condone such outrageous stunts, threatening and endangering someone's life."
That said part of the exercise may have had something to do with the fact that Super-Info is one of many new brand populist journals attempting to make their mark and grab a share of Krygyzstan's increasingly competitive market. In a region which has had its fair share of upheaval, misery and history of violence perhaps on some level it made sense to follow up with this stunt even if it meant on another level defying everything what a journal ought to purport to do, which is report the news not create it or become its proponent.