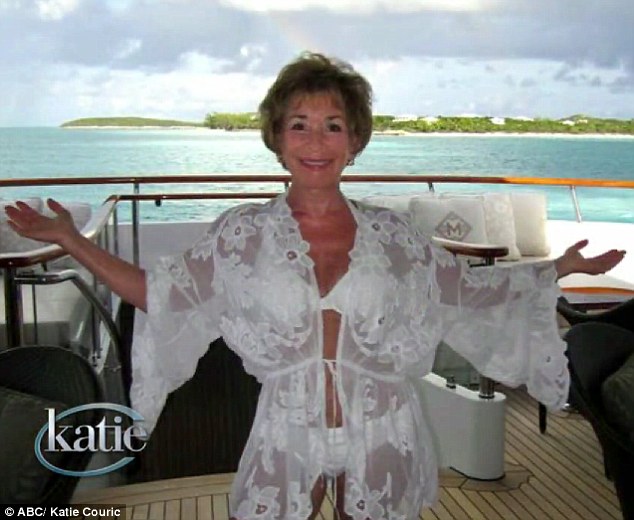 Judge Judy is a very hawt Chi Chi….
Kim Kardashian bled vicious tears this morning when she turned to read this morning's paper and the steamy images of Judge Judy came popping back at her with the following headline: 'I challenge Kim Kardashian to look this hawt when she's 70.'
There on the Katie show with Katie Couric, Judge Judy hardly had a whiff of modesty as she let it all hang out and explained to all you mere mortals how she has managed to be the hot Chi Chi that she is at age 70:
'I exercise, and I eat reasonably, and I don't want to look at myself being out of shape. That would depress me. So I just kept up a regimen.'
Of course all that smashing of her little gavel against all them derelict individual's skulls these last 14 years has probably helped Judge Chi Chi looking lean and mean. And when Chi Chi smashes that gavel there's blood at the back of your head which is Chi Chi's way of reminding you to pay attention when she speaks to you and not to stare too hard when she struts past you in her virgin white two piece lycra number.
Judge Chi Chi then goes on to acknowledge that although she's always enjoyed donning a two piece bathing suit it'll probable be the last time that shit will ever happen again. From there Chi Chi mentioned something about her swimming with pigs whilst on holidays and how much she enjoys being married to her husband Jerry Sheindin who's being there for Chi Chi these last 37 years and with whom she has spawned  five children.
Chi Chi plans on retiring from her 14 years running number one daytime show, 'Judge Judy,'in 2015 after she's had a chance to set all you numbskulls straight….