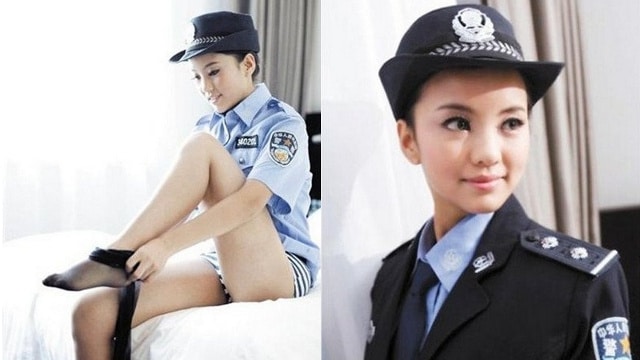 Wang Xiaomeng, a 23 year old Beijing model was sentenced this week to jail for 9 months because she dared to impersonate a police officer as well as then post several raunchy photos of herself in the police attire to Chinese social media site, Weibo. What isn't necessarily apparent is was she sentenced because she impersonated a police officer or because she dared to post  images of herself as a 'sexy' police officer?
Adding spice to her posting, Wang added the following made up byline: 'As a new cop in my hometown, I need to learn the basics. As one of the flowers of the force, I am under pressure. I have to eat and drink with government leaders every day. I am using my flower status to dine with the leaders and win contracts for projects and investments!'
After posting the images, dailydot go on to report that hundreds of commentators set about commenting on the pictures (you think?) with only a handful of dissenters. The flurry of comments was in turn enough to prompt government officials to have Wang arrested for impersonation.
Said Wang in court: "The costume was just a prop, I was so ignorant."
Or was she? Which raises another question, what if she had just posed as a dowdy looking police officer instead? Would she still have gotten in trouble?
Fortunately for Wang her sentence has been suspended for a year, nevertheless the ruling has led to commentators not very pleasantly reacting to the decision on Chinese social media site, Weibo.
Wang's ruling comes coincidentally after a recent twitter user was jailedfor telling a joke, of course at least in Wang's case she looked kind of sexy playing her joke, assuming she was joking in the first place….