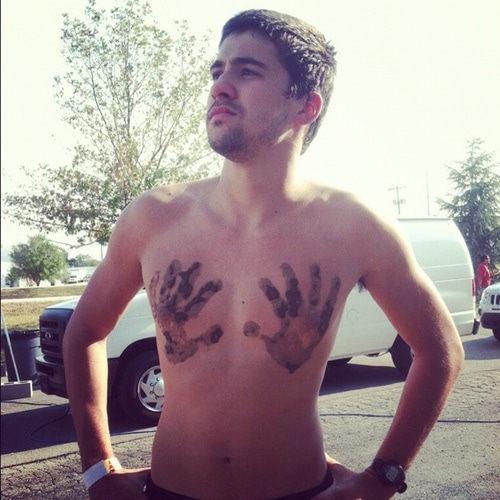 18 year old Jonathan DeVito, a student at Union High School, Oklahoma has found himself being put on probation after he took a picture of a mentally disabled classmate whilst he was using the bathroom and sharing it on twitter.
At present DeVito has pleaded guilty to two counts of being a peeping Tom and violating Oklahoma's Computer Crimes Act, both misdemeanors. As part of his sentence the youth has received a 14 month deferred sentence assuming he doesn't break further laws going forward.
The incident is said to have taken place this past August when DeVito waited in a school men's room and photographed the buttocks of a mentally disabled 16 year old (who had his pants and underwear around whilst his ankles) whilst he was using the urinal and then shared the image with friends via twitter. It is said that the boy depicted was unaware at the time that DeVito had taken his picture.
It was only after other distressed students came across the picture that DeVito was brought up for discipline.
Initially upon being brought into custody the teen faced two counts of manufacturing and distributing child pornography, each carrying a sentence of up to 20 years in jail and or a $10 000 fine. That said the local DA's office later declined to pursue the more serious felony charges against DeVito.
Offered first assistant district attorney, Doug Drummond to NBC2 in September:
'There was no question that poor judgment took place, but we do not believe the evidence supports the filing of any felony charges.'
Tulsa World reiterates that under the teen's probation conditions, DeVito is required to complete 60 hours of community service, with 20 of those hours to be specifically related to speaking at church youth groups, schools or other organizations related to anti-bullying or social media issues.
He also will have to write an apology letter to the victim and his family and to pay more than $1,700 in court-related costs, fees and assessments.
That said one has to wonder what prompted DeVito to abuse the mentally challenged teen the way he did and whether his behavior is indicative of a wider society phenomena where one can be ridiculed/bullied without rebuke and that on some level social media outlets like twitter have become so pervasive that one can easily maintain the illusion that these days anything is up for grabs. Of course one also wonders what deep seated psychological issues DeVito has that necessitated him to take aim at a defenseless young boy with special needs…?