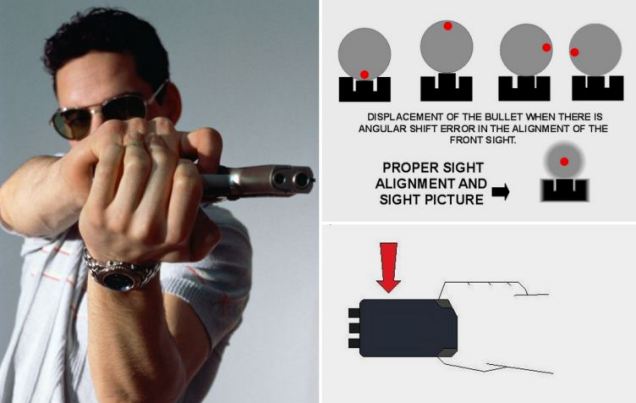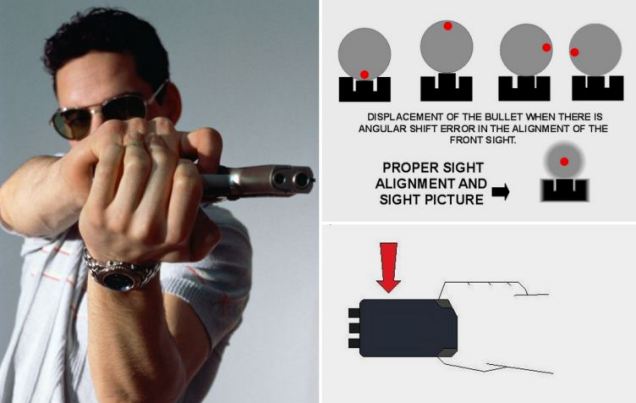 Are you an aspiring gangster wondering how to effectively go about your business of terrorizing and generally killing people that don't see your way? Then relax because one former US Marine Corp marksmanship instructor, Jon Davis wants to confirm your suspicions that holding a gun at your intended sideways might be the way to go if you want to get a few quick volleys off.
dailymail.co.uk: As a specialist in pistol marksmanship and a veteran of the war in Iraq, Mr Davis has fired these kinds of weapons thousands of times.
He explains that when aiming a handgun in the conventional, barrel-up manner the rear sites must line up with the front sight in the horizontal and vertical planes to make sure the bullet travels a straight line.
That said according to Jon Davis there's a catch when it comes to firing a shot in a straight line otherwise known as 'building the castle,' it may take up too much off your valuable time in getting off your shot. Instead Mr Davis advises that using what's called a technique called 'flash sight picture' might be your best bet. Offers Mr Davis:
'The problem with tilt style shooting is that it is almost impossible to acquire a reliable sight alignment. The alignment in tilt style is achieved by making the weapon flat and aiming down the side.
'In theory this works, but in practice you can't accurately measure movement left or right and you have absolutely no way of knowing if the weapon is tilted down below your field of vision from the back of the weapon.
'This means that you never actually take the same shot twice since you are never actually aiming the same way.'
So although aiming your gun head on straight might be help you get an effective shot aiming it sideways just might help you get in a couple of shots before your target gets one off at you. The moral of the lesson? Being a gangster requires you learning a few street tricks on the side so you can survive in a line of work that will more often than not eventually ensure getting yours anyway….