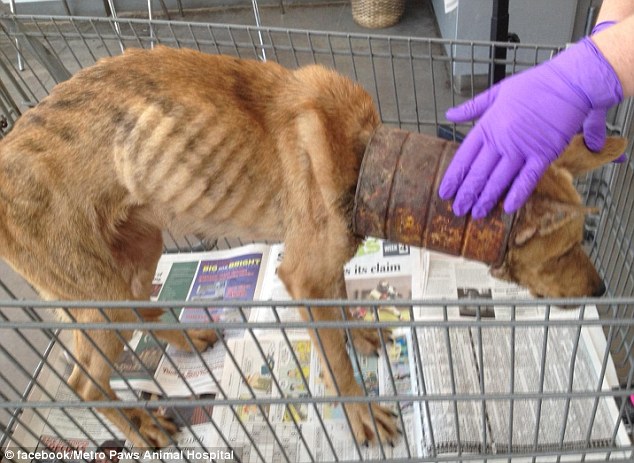 An abused dog with a coffee can plunged around its neck was discovered wandering the streets of Dallas, Texas. Apparently the bottom and top circular portions of the can ha been removed and plied through the dog's head and neck where it is thought it remained for a number of weeks constricting the dog's ability to eat food as the can jarred against its neck bone.
In fact so prevalent was the abuse the dog experienced, everyone of its rib bones in its rib cage were prevalent when authorities tended to the distressed dog. Not only that but the constant abrasion of the coffee can had nearly sliced off one of the dog's ears as its skin had attempted to grow around the tin can.
Since veterinarians have cut off the coffee can the dog now nicknamed Java has since been taken to a Metro Paws Animal Hospital where its progress will be observed.
Reflected a MPAH spokesperson:
'The next few days are critical. We have to get her stable enough for surgery and watch out for organ failure due to her starved condition. But that tail is wagging.'
Commented one reader on MPAH facebook wall: Thank you so much for taking care of Java. She and all animals of every kind never deserve to be abused, especially so cruelly. Whoever put that coffee can around her neck knew it would keep her from being able to eat. Thankfully there are more kinder people in the world than there are monsters like Java's abuser. We love you, Java!!