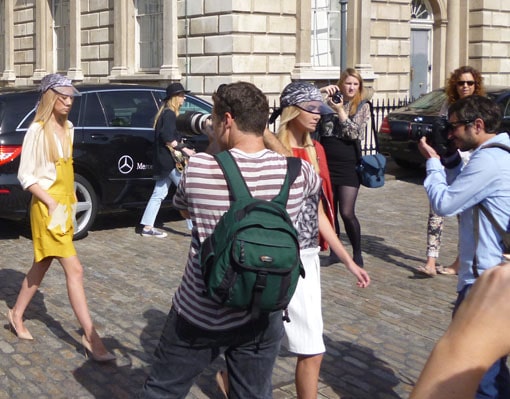 Pictorial: Scenesters hit London Fashion Week.
The cobbled courtyard of Somerset House provides the perfect playground to make a fashion statement and strike a pose. The home of London Fashion Week bi-annually for just five days has upped its game in what to wear and how to wear it. It's one thing to be fashion aware and style conscious, after all, most of these people work in the industry, this however is unadulterated promotion of the self with an underlying purpose.
"We're a band," comments a bleached blond as he poses with two others for a selection of street style snappers. All three are wearing white tops, bold print leggings customised with vibrant accessories. "We're called Plastic," he continues knowing full well that the mere mention will merit a credit or a link on the web and in turn will add more comments, clicks and ultimately more publicity.
Everywhere you look there is a camera, i-pad, camera phone poised and ready to snap each and every wardrobe decision. For those with the sole intent of looking at what the Fashion Week designers have to offer it can be slightly unnerving. For others, meanwhile, it provides the perfect excuse to dress-up to the max and provide live theatre to the venue and its surrounds.
All this instant snapping, pinning, uploading, commenting, Facebooking and Tweeting has left the doors open and wide to self-publicity and some are taking full advantage. Up and coming designers make sure their blogging friends are wearing their pieces while others turn up with a bunch of models dressed in their designs and hold impromptu shows right in front of queuing journalists and eager photographers. The coverage may be sketchy but it sure is a cost effective way of getting noticed.
Speaking of cost effective – the spiralling costs of putting on a show begs the question is a catwalk show the best way to present a collection? More designers are opting for alternatives such as film presentations, static shows, installations and small salon shows in hotel rooms.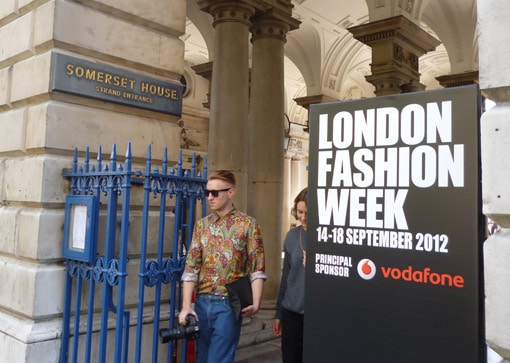 Long established for their prints design duo Eley Kishimoto incorporated their latest Spring/Summer 2013 designs into a retrospective of their patterns over the last twenty years. "The catwalk hasn't always been the best format for us to show our pieces," comments an Eley Kishimoto rep at the exhibition. "People benefit from seeing our designs and prints up close which tend to get a bit lost when shown on the catwalk," she continues.
Indeed the presentation held in the gallery space of the Aram store in central London is the antithesis of 'celebrity' and 'who's who' in the front row that can shadow many of the shows. Here the main point of discussion is the work on show; playful geometric prints on easy-to-wear fuss-free shapes, and that I must say, made for a refreshing change from the self-styled circus taking place outside the home of London Fashion Week.